Will Apple Inc.'s Watch Outsell The Mac?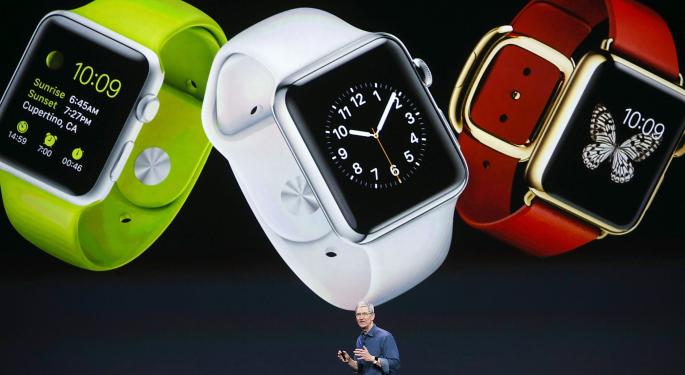 Apple Inc.'s (NASDAQ: AAPL) first smartwatch could have massive sales potential.
"It's gonna probably be Apple's third- or fourth-most successful product," Sean Udall, CIO of Quantum Trading Strategies and author of The TechStrat Report, told Benzinga. "Will the watch be a bigger revenue-generator than Macs? In the first year, hard to say. But once you get a full year, my guess is the watch probably becomes a bigger revenue-generator than Macs."
Waqas Makhdum, VP of marketing at Kii (a mobile backend provider), agrees with this assessment.
Related Link: How Much Will The iPhone 6 Cost?
"Obviously it's more of a qualitative statement at this point," Makhdum, whose company works with app developers to create wearable tech and products for the Internet of Things, told Benzinga. "But I think so. Watches are more of an integral part of our lives. There's an openness to people wearing a watch. It's less-intrusive than technology like Google Glass."
Big Potential
Rob Enderle, principal analyst at Enderle Group, wasn't overly excited by Apple's new product lineup. He referred to the Apple Watch as an "accessory," but he thinks the device could be huge.
"If they get their attach up and they can sell one of these for every iPhone, then the buying potential is there," Enderle told Benzinga. "The question is, is anyone going to buy them?"
Enderle questioned the $349 starting price. Consumers will spend at least $998 for both the watch and an iPhone 6 (which starts at $649 without a contract).
"I agree that the potential is there for anybody making a phone accessory to have phone-like volumes," Enderle added.
Long-Term Success
Trip Chowdhry, the managing director of equity research at Global Equities Research, has been very critical of Apple. He had a change of heart after the company unveiled its first smartwatch.
"It could sell more than a Mac," Chowdhry told Benzinga. "How many users are there for the Mac? Best-case scenario, 100 million. They will probably sell more than 100 million of these watches."
Related Link: What The Experts Think Of The Apple Inc. Watch
Chowdhry is among the analysts that have lofty sales expectations. Morgan Stanley recently predicted that Apple could sell 30 million smartwatches per year.
Inflated Expectations?
IHS Associate Director Shane Walker (who covers wearables, medical devices and health care IT) is not convinced that Apple's smartwatch is the "be all, end all future of Apple."
"Will it replace other product lines for Apple as a revenue-generator? I don't think so," Walker told Benzinga. "But it's a good-looking product and it will be the most compelling smartwatch on the market."
Based on the requirements (an iPhone 5, 5S, 5C, 6 or 6 Plus is required to use the Apple Watch), Walker thinks Apple could have a market of about 200 million people.
"That's a good, tangible market," he said. "Will they move and spend $350 or more on that device? That remains to be seen."
Disclosure: At the time of this writing, Louis Bedigian had no position in the equities mentioned in this report.
Posted-In: Apple Watch comments iPhone 6 iPhone 6 Plus Rob Enderle Sean UdallTop Stories Tech Best of Benzinga
View Comments and Join the Discussion!