Exclusive: GM Class Action Suit Could Cost the Company Billions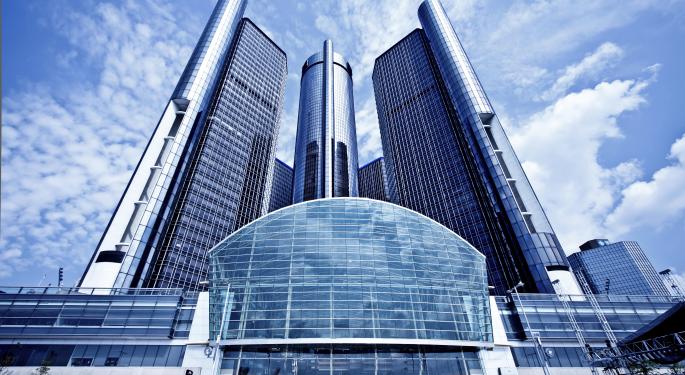 Editor note: This is the second of a two part series. Read Carey's initial comments here.
Earlier this year Hagens Berman, the law firm that won a $1.6 billion class action suit against Toyota (NYSE: TM) for the company's wave of 2009-2011 recalls, was appointed interim lead counsel of the class action lawsuit against General Motors (NYSE: GM).
Unless the court appoints another firm, Hagens Berman will lead the case.
In an exclusive interview with Benzinga, Hagens Berman partner Rob Carey discussed the value of a settlement. Hagens Berman is targeting General Motors for economic loss (i.e. lost resale value because of the recall) to its customers. The suit was filed for $10 billion of economic damages and the court could rule for an additional punitive award.
Related Link: Deadly Central American Earthquake Puts Mines And Fracking In Play
"It's hard to value. Not because I think it's [a] difficult equation or concept, but because it's still growing," said Carey. The Cobalt is a prime example. "The value has dropped one thousand dollars in one month on a five thousand dollar car and I think most of the data has just started coming to the surface right now."
Carey went on to lay out how damaging the worst case scenario could be for General Motors. He explained that if evidence that the automaker systematically buried safety information on all vehicles comes to light, GM cars would be worthless because people would be afraid to drive them.
General Motors has said that systematic information burying did not take place. However, Carey feels this may not be the case and criticized the internal report:
"There are a lot of things missing from that report and a lot of things not asked and questions you can't ask them on a superficial basis. You have to go in, take the data, come to a discovery and figure it out for yourself, then ask them the questions and see how much of it is true or not."
Carey used former GM engineer Ray DiGiorgio as an example. DiGiorgio is largely blamed for the ignition switch problem and difficulties in correcting it created by a failure to change the part number when the new, corrected design was used. However, some claim that internal communications show DiGiorgio insisting on changing the number while the company failed to take action.
Regarding a punitive payment on top of the economic damages, Carey says it will come down to a series of factors ranging from how witnesses appear in court and how GM presents itself. Nonetheless, a settlement in the billions of dollars would not be unheard of.
Shares of General Motors are down just 8.4 percent over the first half of 2014 despite nearly 30 million vehicles recalled. The issue closed at $37.44 Monday.
Be sure to read the first part of Benzinga's interview with Rob Carey.
Posted-In: comments GM Hagens Berman Ray DiGiorgio recall Rob CareyTop Stories Trading Ideas Best of Benzinga
View Comments and Join the Discussion!