Exclusive: Evoke Pharma CEO Dave Gonyer Explains Opportunities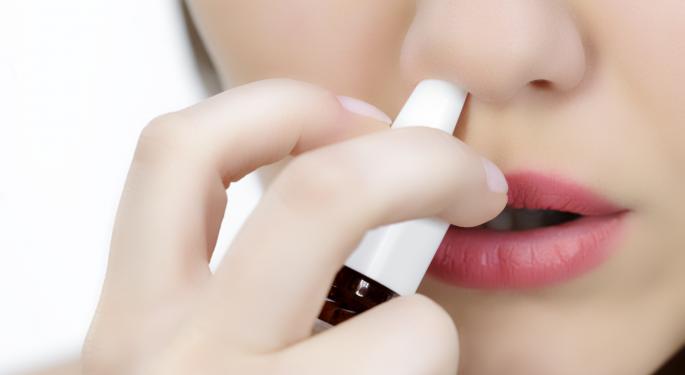 In an exclusive interview with Benzinga, Evoke Pharma (NASDAQ: EVOK) CEO Dave Gonyer discussed the company's opportunities. Evoke is currently focused on its drug EVK-001. EVK-001 is a nasal spray to treat diabetic gastroparesis.
Gonyer began by discussing the drug's potential market. "There are about 12 to 15 million people in the US who have symptoms of Gastroparesis, so its a fairly large marketplace. However, there are only about two to three million patients who are currently being treated effectively." Of the people affected, roughly one third is the result of diabetes. This is the group Evoke is targeting.
Looking internationally, Gonyer commented, "The market is quite large everywhere,". However, expansion into Europe is difficult because Evoke must conduct head to head trials with an existing generic product.
Related Link: Evoke Pharma Initiates Phase 3 Clinical Trial of EVK-001 for Treatment of Gastroparesis
This is a disease that slows and stops stomach movements. The solution has always been to take an oral pill. "But sometimes when you take a pill, it can just sit in the stomach," noted Gonyer. When pills build up patients can throw them up or they can get a dumping of all the medications they are taking at once, with serious side effects.
"What we are doing is delivering the drug intranasally." Gonyer explained that this delivery system can give the patient more reliable and consistent blood levels.
Gonyer stated that the gastrointestinal space has been getting a lot of attention over the past two years, but that there are very few products in development. "Fortunately, we are one of them," stated Gonyer. He went on to comment that Evoke has the capability to commercialize the product themselves, but an appropriate acquisition offer would be considered by the board and shareholders.
Besides Evoke, there are three other products in the space under development. "They are all phase two products that are new chemical entities which would go through a much longer clinical and safety path than what we will be going through," because Evoke will be relying on data that is already available for the molecule. "We will be on the market for years before any of the competition."
When asked if Evoke has enough capital to complete phase three trials, Gonyer replied, "We stated earlier on and continue to state to The Street that we have sufficient funds to get through our phase three trials." Top line data from the trial is expected by the middle of 2015."
Shares of Evoke Pharma were last trading at $7.42, mostly unchanged for the year.
Posted-In: Dave Gonyer EVK-001 GastroparesisTrading Ideas Interview Best of Benzinga
View Comments and Join the Discussion!