The Evolution Of DDP Yoga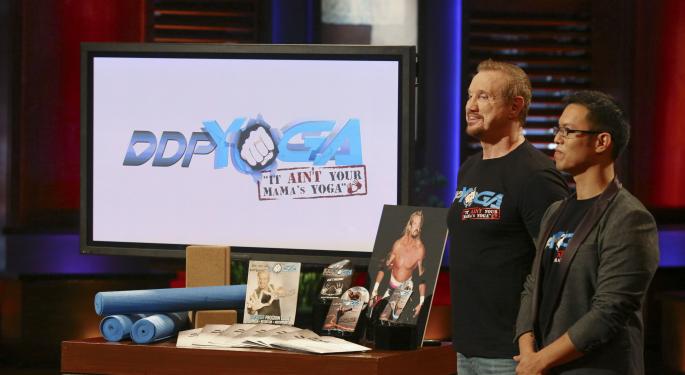 The goal on the television reality program Shark Tank is to persuade the investors to believe in an idea and a management team. That pitch hopefully translates into some seed money to expand the business.
Sometimes, however, being denied by those in charge can reap the rewards. When asked how his "unsuccessful'" appearance went, Diamond Dallas Page expressed his disagreement.
"That wasn't unsuccessful, that was f---ing huge," shouted Page. "I never went there for the money. I didn't need their money. I went there to get on Shark Tank."
Page told Benzinga that his business, DDP Yoga, earned $1 million in the six days following his appearance on February 21. As of May 23, Page has sold over 108,000 units since 2012, all online.
"Now you want to restate that comment?"
The yoga industry has nearly doubled over the last five years. It's a $10.3-billion a year industry, with over 20 million practicing Americans, according to the most recent Yoga in America study.
Related: What Led To WWE's Smackdown?
The DDP Yoga fitness system has given Page a second life as businessman. It has given others a second chance at life.
"I believe in manifesting every dream I have into a reality," he said. "Once you set a date to it, it becomes a goal."
The Genesis
Page was involved with professional wrestling from about 1991-2005; his greatest success came in the late 1990s, while under contract with World Championship Wrestling (WCW). His age was advanced for a pro wrestler.
"When you start wrestling at 35, [it's] all about finding every way to hold back the hands of time," said Page. "It started with me never being caught dead doing yoga. I got involved out of necessity."
Page suffered a career-threatening injury in 1998, almost immediately after signing a three-year, multi-million dollar contract. Depressed, his then-wife Kimberly suggested he try yoga.
"All the spiritual mumbo-jumbo frustrated me - no modifications of the moves frustrated me," explained Page. "Figuring it out as I went along - I felt the difference after three weeks. I mixed the yoga positions with my rehab moves… I figured this out by accident."
He explained that, to engage more muscle, a person must work slower with "no momentum of the weight. Every time you flex, your heart has to beat faster to get blood to the muscle. Strengthen your core like never before with minimal joint impact."
In three months, Page was the WCW heavyweight champion, arguably the top honor a pro wrestler could earn.
The Business
Page invested half a million dollars over time into his program. Page said around the time he reached about $200,000, he ran into Arthur Boorman online. Boorman was a product of Page's first DVDs, in addition to Page's dietary plan.
Boorman was a disabled Gulf War veteran. He would be the "first prototype for what the fitness system would become." There are now five sets of DVDs, ranging in price from $49.99 to $89.99.
Boorman's journey is chronicled in a five-minute video, posted on Page's YouTube page. Since April 2012, it has over 10.6 million views.
"What blew it up was retooling Arthur's story, adding the Coldplay music," said Page. "It emotionally lifts you up. We gave people hope and then that went viral and before you know it, I'm walking through TSA and get a text that says 'read this tweet - David Copperfield wrote stop what you're doing right now and watch real magic.'"
Page has been able to advertise on the podcasts of Chris Jericho and Steve Austin, former colleagues. He is also heavily involved on Twitter -- between Page's personal account and DDP Yoga, he has nearly 500,000 followers.
"My goal is do I break even? Oh yeah. We got so much overflow. It's about visibility," said Page. In less than three years, DDP Yoga has made $3 million. He went on to boast, "we're gonna be Shark Tank's first $100 million company. We already passed last year's figures and we're not even in the summertime."
This is the first of a two-part series. Click here to read about the mobile app, WWE and more life-saving moments.
View Comments and Join the Discussion!
Posted-In: DDP Yoga Diamond Dallas PageEntrepreneurship Crowdsourcing Top Stories Success Stories Interview General