JP Morgan Believes In Detroit, Backs Up Its Support With $100 Million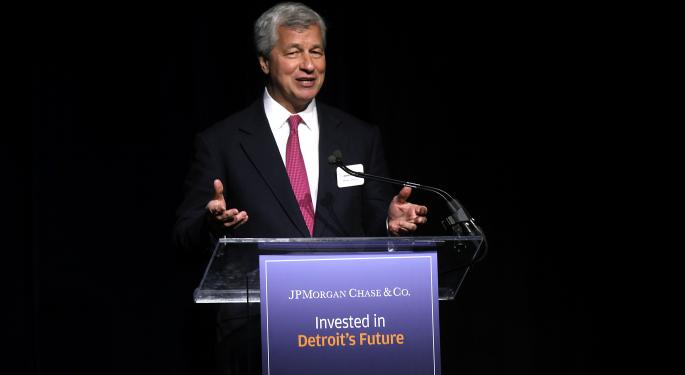 "We have been in Detroit for a very long time, and we're here for the long term," said JPMorgan Chase (NYSE: JPM) CEO and Chairman Jamie Dimon, as he officially announced his company's commitment to invest $100 million to Detroit in a luncheon Wednesday.
Dimon clarified the process, "This is the first time JP Morgan Chase has came into a town, met with leadership and said, 'What can we do to help?'"
Related: Beyond the Warren Buffett Fathead: Dan Gilbert's Vision of Giving Back
The commitment is as follows:
$50 million to community development investment ($40 million to long-term debt, $10 million to two non-profit lenders)
$25 million to fight blight, restoring properties to productive use
$12.5 million for workforce training
$7 million to catalyze small business growth
$5.5 million for the M1 Rail, a streetcar connecting the city's downtown and midtown.
Although the $100 million investment was introduced as a gift, Dimon clarified, "We are for profit, we are investing in Detroit… With this investment, we are putting our resources and expertise to work to help Detroit chart a course back to economic prosperity."
Dimon was sure not to take all of the credit, citing hard work on the parts of city and state leaders.
Expanding the scope of his discussion, Dimon stated that America is the best place in the world to be born and it will not be long until Detroit is the best place in America to be born. Backing up his claim, he cited that America has the best military on the planet, the best universities and an outstanding work ethic.
"America did not have a divine right for success," he said.
The chief executive concluded by stating that in order to make the U.S. and cities like Detroit better, we need more infrastructure spending, a solution to the immigration issue and a system to increase the inner-city graduation rate.
Posted-In: Detroit Jamie DimonEntrepreneurship Top Stories Economics Small Business Hot General Best of Benzinga
View Comments and Join the Discussion!