Marijuana Weekly Roundup: Minnesota Medical Marijuana Law Passes Major Hurdle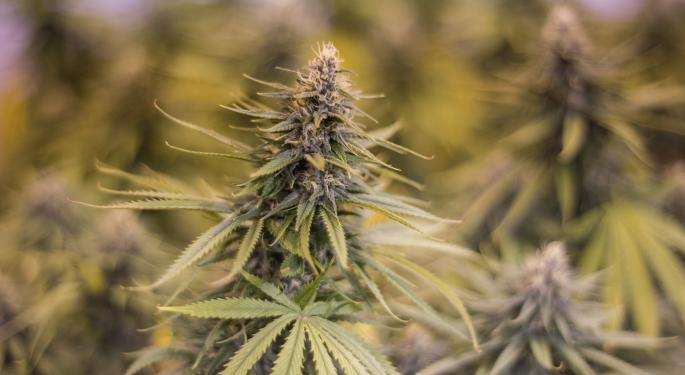 Minnesota Set To Become The 22nd State To Legalize Medical Marijuana
After a series of road-bumps, the Minnesota legislature overwhelmingly passed a bipartisan bill that would legalize some medical marijuana use. The new policy, which is considered the most restrictive in the country, only allows patients to consume cannabis by pills and oils. Smoking and the possession of dried marijuana leaves will remain illegal.
Governor Mark Dayton is expected to sign the bill, but the real challenge comes in establishing a regulatory system that can be in place by July 1, 2015. The state's Department of Health will given the task to design that system, which will allow for two manufacturing facilities and eight dispensaries.
SEC Issues Warning For Marijuana-Stock Traders 
The SEC posted a Investor Alert: Marijuana-Related Investments," which gave traders tips on how to avoid scams. Click here to read Benzinga's coverage of this news.
Pregnant Woman Found What In Her McDouble? 
A pregnant Iowa woman had a weird taste in her mouth after biting into a McDonald's (NYSE: MCD) double-cheeseburger earlier this month. There was marijuana sprinkled between the burger patties, causing a police investigation into the matter. As of Monday, no charges have been filed.
Related: R&D Tax Credit Passed In The House, Faces Challenges Ahead
This is not the first time marijuana has been found in a fast food burger. In November, a Georgia Wendy's (NASDAQ: WEN) employee 'misplaced' her blunt in between buns while smoking on the job, causing a customer to be admitted to the hospital with symptoms of food poisoning. To compensate for the incident, Wendy's paid for her hospital bills and offered a $50 gift card to the restaurant.
New Mexico Department Of Health Calls For Increased Fees
A proposal from the New Mexico Department of Health would make medical marijuana far more expensive for its over 11,000 med card holders. The new policy would impose a mandatory $50 per year renewal charge for card holders, as well as triple the licensing fees for nonprofit growers.
The proposal would allow growers to expand their crop from 150 plants to 150 mature plants and 300 seedlings, but would also nearly triple the cost of licensing fees. Erik Briones, owner of the Minerva Canna Group, is opposed to the new policy, telling the Albuquerque Journal that "these proposals are just going to push patients to the street," due to increased prices.
'Weed Firm' Tops iTunes App Store
A new game topped the iTunes app store chart over the weekend. 'Weed Firm' is a first-person game where the player grows, harvests and sells marijuana while dodging the law. Players can also 'Roll One Up' and smoke a joint. The app was approved by Apple (NASDAQ: AAPL), and has quickly climbed the charts.
View Comments and Join the Discussion!
Posted-In: marijuana reform Minnesota SECPolitics Top Stories Media General Best of Benzinga