Tesla Vehicle Runs Into Stop Sign After 'Stoned' Owner Uses Smart Summon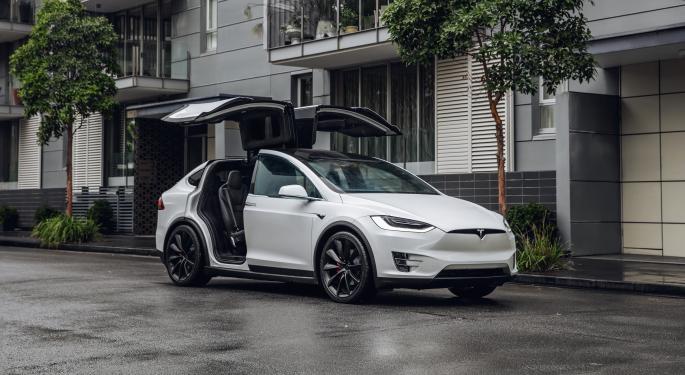 Tesla Inc (NASDAQ: TSLA) is on track to make some of the world's first publicly available fully autonomous cars.
Although they're not capable yet, there is one feature these vehicles have that can allow the car to drive itself without a person in the car at all: Smart Summon. This feature is offered to any Tesla owner that purchases the company's $8,000 Full Self Driving software package.
What Happened? An owner of a Tesla Model X shared their unusual story on the Tesla Motors Club forum.
The driver left a tea shop, and decided rather than walk to their car, they would call the car to come pick them up. The driver admits they were "stoned." They pulled out their smartphone, and requested the car to drive itself over. This Tesla owner assumed the car would avoid the stop sign.
"...from the spot I stood, I can't tell if the car will hit the stop sign, since I know for sure it will by pass it or stop, however, it went straight to it with a heartbreaking 'bam'. I was shocked."
The owner attached pictures of their damage and plans to talk to Tesla to get the company's opinion on the matter.
See Also: Tesla Share Frenzy Means Elon Musk May Enjoy $1.8B Personal Windfall
Benzinga's Take: When using Smart Summon, the owner is in charge of the vehicle as if they were driving. Does this count as driving under the influence? It's a murky area.
And being stoned? The driver admitted that wasn't very smart: "Yes seriously, had too much confidence on them. I'm first time Tesla owner for a month... Guess won't be surprised In the future."
Tesla is clear that Smart Summon is a beta feature, and you must take caution at all times. If you can't tell if your Tesla is going to run into something, it's best to err on the side of caution to avoid damage.
The owner will most likely be fully responsible for this damage. It's just unfortunate they were a new owner, and weren't aware of Smart Summon's limitations. It does seem strange that the car would run into a stop sign... it can see them after all.
View Comments and Join the Discussion!
Posted-In: electric vehicles EVsTech Media Best of Benzinga