Why Robo-Advisors Are 'Great' For The Advisory Space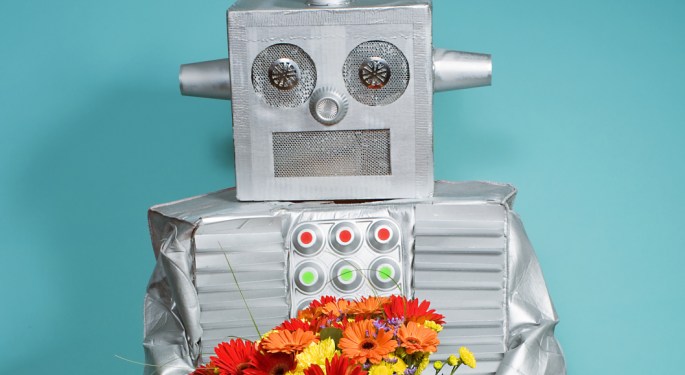 More consumers are becoming aware of robo-advisors, and that might be good for the overall industry.
"We think robo-advisors are great for our industry because what they do is raise the level of awareness about the importance of being financially responsible," said Tom Nally, president of TD Ameritrade Institutional.
Nally told Benzinga about the challenges faced by the advisory industry, including the shortage of new entrants. Only 6 percent of advisors are under the age of 30.
"We have a series of programs that are designed to raise the visibility of what a great, rewarding career being a financial planner can actually be," Nally explained. "That consists of several different things. One is we give away annual scholarships to financial planning students."
Nally will join the winners of TD Ameritrade Holding Corp.'s (NYSE: AMTD) NextGen Scholarship and ring the closing bell today at the New York Stock Exchange.
"We also give away two annual grants to universities that have financial planning programs," said Nally. "One is a $50,000 grant for an established program. The University of North Texas is the winner this year. We have a $25,000 grant for a university that's just trying to get a planning program started. Temple University is the winner of that this year."
Nally said that there are roughly 90 universities that offer financial planning as a major.
"We'd love to see that expand," he added. "We'd also love to see the number of students that graduate with a financial planning degree expand as well. We think there's a lot of opportunity to grow that number because there's an enormous amount of demand."
Related Link: TD Ameritrade U Brings Real-World Trading Experience Into The Classroom
New Opportunity
In addition to building awareness, Nally said that robo-advisors provide a new opportunity for the industry.
"If you think about what a financial planner does, portfolio management is just one offering of their overall value proposition," he said. "In fact, there was a study by FA Insight last year that said on average, the financial planning firm provides 10 different services in addition to portfolio management to their clients."
Nally said that the majority of that value proposition focuses on comprehensive financial planning and wealth planning (retirement planning, college planning, etc).
"What we're seeing is, financial advisory firms really position themselves as the advisor to their clients on all things financial," Nally continued. "Things like, 'Should I refinance my mortgage?' 'How do I structure my small business?' 'How do I handle my estate?' 'Should I set up a trust?' It's much less about just the portfolio management component, especially as you see clients grow their wealth. As their wealth grows, usually the complexity of their financial situation grows as well, so you really need a professional."
Disclosure: At the time of this writing, Louis Bedigian had no position in the equities mentioned in this report.
Posted-In: New York Stock Exchange NextGen Scholarship NYSE Robo-Advisor TD Ameritrade TD Ameritrade InstitutionalTech Personal Finance Best of Benzinga
View Comments and Join the Discussion!