Jay Z Freestyles At Tidal Concert; Disses Apple, Nike, Spotify & YouTube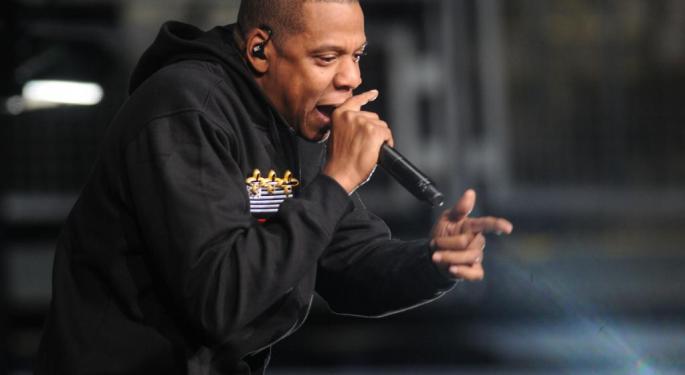 In a recent private concert for Tidal subscribers, music mogul Jay Z appeared to take a few digs just about every major player in the streaming business.
Tidal is Jay Z's music-streaming service that was launched en masse earlier this year. Despite the major hype heading into its wide release, its popularity appears to have waned.
The rapper even took to Twitter last month to express his optimism for the company. Among the stream of tweets, Jay Z said, "Indie artists who want to work directly w/ us keep 100% of their music. "If you don't want the CEOs all in the videos" haa... Tidal pays 75% royalty rate to ALL artists, writers and producers - not just the founding members on stage... Rich getting richer? Equity values... YouTube $390 billion. Apple $760 billion. Spotify $8 billion. Tidal $60 million. #TidalFacts."
Among the names dropped in the freestyle rap posted on YouTube on Saturday? Apple Inc. (NASDAQ: AAPL) Co-Founder Steve Jobs, Nike Inc (NYSE: NKE) Co-Founder and Chairman Phil Knight, competing music service Spotify and Google Inc (NASDAQ: GOOG) (NASDAQ: GOOGL)'s aforementioned YouTube.
Some of the excerpts:
"You bought nine iPhones and made Steve Jobs rich"
"Phil Knight worth trillions, you still bought those kicks"
"Spotify's nine billion, they ain't say shit"
Check out the full video below:
that freestyle was everything i dislike about 2015 jigga. you just went from complaining about youtube to freddie gray one bar? my dude...

— Bomani Jones (@bomani_jones) May 17, 2015
Image credit: Adam Glanzman, Flickr
View Comments and Join the Discussion!