Tesla: Does Home Battery + Solar = Disruption?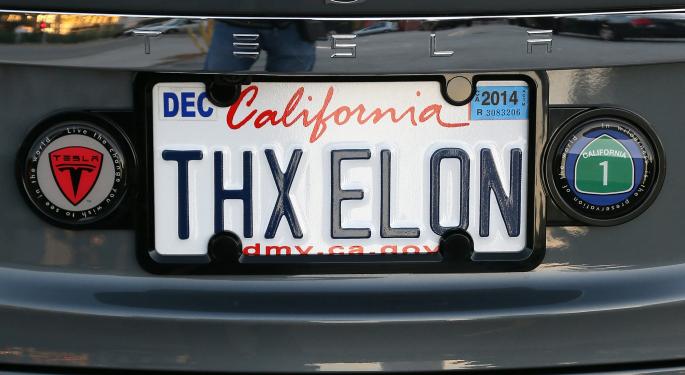 The Holy Grail for distributed residential PV solar polar would be to pair the rooftop panel generated power with efficient battery technology that would theoretically allow homeowners to cut the utility umbilical cord in the future.
On April 29, greentechmedia.com (GTM) published, "3 Charts Explain Why Tesla Is Developing a Battery for Homes," an article that was inspired by Tesla Motors Inc (NASDAQ: TSLA) founder Elon Musk's recent revelation: "We are going to unveil the Tesla home battery, the consumer battery that would be for use in people's houses or businesses fairly soon."
SolarCity

/Tesla Pilot Program

Most investors are already aware that Elon Musk is also the visionary founder of SolarCity Corp. (NASDAQ: SCTY); however, less well known is the fact that SolarCity already has a Battery Storage pilot program, involving as many as 430 homes in the San Francisco Bay area.

According to the company website, "SolarCity is making the latest advancements in battery technologies available to you through our partnership with Tesla Motors. Only SolarCity's home backup system uses technology engineered by Tesla, leveraging their expertise in developing battery technologies for premium electric vehicles."

Related Link: Grid Edge 20: Who Is Disrupting the U.S. Electric Market?
Tesla: Stationary Storage Business
Tesla is currently constructing its Reno, NV "gigafactory" to produce lithium-ion batteries for its growing electric car market, and other applications.
Tesla's Mateo Jaramillo, on The Energy Gang podcast included in the GTM article, said "that one-quarter of lithium-ion batteries produced at the company's factory could be used for stationary applications."
Storage Timing/Scale
The multi-billion dollar question becomes: When will technology advances spark this paradigm shift really take root?
"According to GTM Research, the behind-the-meter battery sector will make up 45 percent of the storage market before the end of the decade. Although the market will be modest, at around 385 megawatts, it will still represent a roughly $750 million business opportunity by 2019."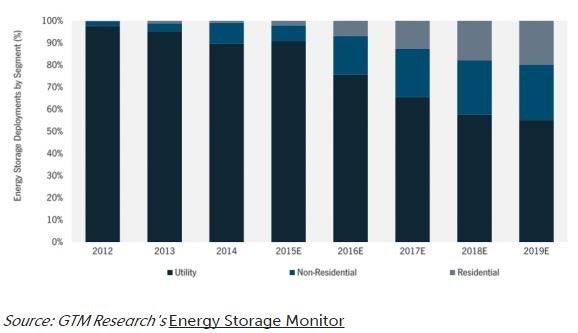 As GTM pointed out, "By the middle of the century, the U.S. market alone will be worth tens of billions of dollars. Assuming electric rates continue to rise at 3 percent a year, batteries paired with solar PV systems could consistently beat the price of grid electricity throughout the country within a decade and a half."
According to a Rocky Mountain Institute analysis referenced in the GTM article "by 2030, batteries paired with solar could cut electricity sales cut by half in both the residential and commercial sectors for Northeast utilities. That could mean nearly $40 billion in lost revenues -- money that could shift into the coffers of battery service providers like Tesla."
Investor Takeaway
The assumption that "electrical energy rates will continue to rise at 3 percent per year," can be debated by investor owned utilities (IOUs), and other industry experts.
While technology advances seek to make behind-the-meter storage solutions financially viable, these systems are still likely to be a part of a long-term energy solution, along with traditional utility power generation and utility owned and maintained electric grid.
However, forward pricing curve "guestimates" for fossil fuels and future utility rates aside; there is no doubt that regulation, legislation, improved economics and consumer preference will continue to be tailwinds for sustainable energy initiatives, including residential solar.
Posted-In: GreenTechMedia.comTech Media Real Estate Best of Benzinga
View Comments and Join the Discussion!