Weekly Tech Highlights: Apple Watch Arrived, BlackBerry's Big Acquisition & More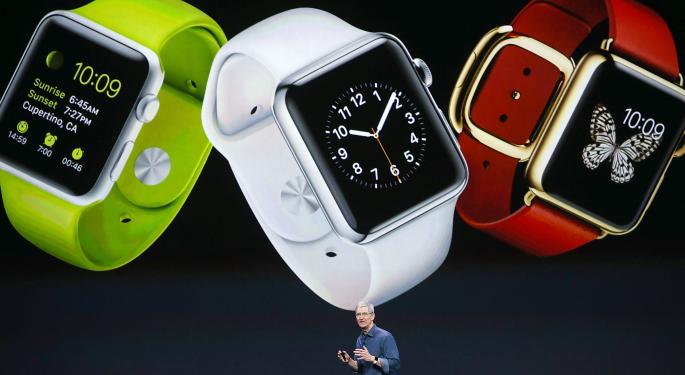 April is coming to a close, but it seems to be going out in style.
The world's largest tech company released a new product this week, a niche smartphone manufacturer made a major acquisition and HBO reaped the benefits of "Game of Thrones."
Apple Released Its First Smartwatch…Online
Apple Inc. (NASDAQ: AAPL) released the Apple Watch on April 24 and continued to dominate media headlines for the wearable space. This was a significant achievement for the Cupertino, California-based tech giant, which previously released tablets, smartphones and MP3 players that achieved new industry sales records.
It is not yet known how many Apple Watches have been sold, but analyst estimates indicate that as many as 2.5 million units were pre-ordered ahead of the device's release.
Apple responded to its allegedly high (though still unconfirmed) pre-order numbers by selling the Apple Watch exclusively online throughout the United States. Only one store, a boutique in West Hollywood, sold the watch domestically through a physical retail location.
Related Link: Most Netflix Subscribers Still Pay For Cable, Satellite Service
HBO Now Enjoyed A Successful Launch
Qwilt's rankings show that both HBO Go -- and the newly launched HBO Now -- experienced a strong spike in viewers during the season premiere of "Game of Thrones."
"What we've seen for both Now and Go is that, because HBO is kind of like catch-up TV plus other movies, the other movies generate pretty consecutive traffic," Dan Sahar, co-founder and VP of Product Marketing at Qwilt, told Benzinga. "The spikes in traffic occur when they actually publish new episodes of their hit shows."
Sahar said that whenever a new episode is released for a hit HBO show, "You see two days of people catching up with those shows, and then there's a drop in the bandwidth for the rest of the week."
During the "Game of Thrones" premiere, HBO Now was No. 7 on Qwilt's ranking of major video sites. HBO Go was No. 5.
BlackBerry Paid Millions For A Data Security Startup
BlackBerry Ltd (NASDAQ: BBRY) acquired a data security firm called WatchDox. Terms of the deal were not revealed, but the rumored price could be as high as $150 million.
"The problem is, if they charge for added security, then their selling point to anybody who's not on BlackBerry is moot," Cody Willard, chairman of Scutify (a financial social network), told Benzinga. "Nobody wants to go sign up for BlackBerry and have to pay extra for good security. They have to use this as sort of a value add to the existing product, if anything at all."
The Fintech Community Embraced Apple Watch
Benzinga spoke to numerous fintech companies this week, and most of them are already working on an app for the Apple Watch.
"SigFig has always been committed to embracing cutting edge technologies that enhance the SigFig experience for our users," Mike Sha, co-founder and CEO of SigFig, told Benzinga. "As a result, we're pleased to have been approached by Apple early on to develop an Apple Watch app ahead of the watch's release."
Sha is one of many fintech entrepreneurs who was eager to support the watch.
Google Teamed With Carriers To Launch Mobile Phone Service
Google Inc (NASDAQ: GOOG) (NASDAQ: GOOGL) is now in the smartphone service business.
The search engine giant officially unveiled its plans this week, which includes unlimited domestic talk and text, unlimited international texts and international calls at $0.20 per minute. Consumers pay $0.01 for every megabyte of data, which amounts to $10 a gigabyte. They will not charged for data they don't actually use.
This usage plan might attract some attention, but Morgan Stanley doesn't expect it to have a meaningful impact on Google.
Disclosure: At the time of this writing, Louis Bedigian had no position in the equities mentioned in this report.
Posted-In: Apple Watch Dan Sahar Morgan Stanley Qwilt SigFigTech Best of Benzinga
View Comments and Join the Discussion!