Apple Q1 Earnings: A Chronological Recap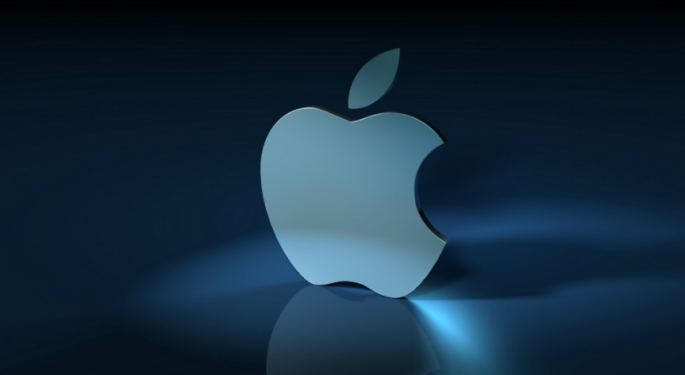 Want an edge during Apple earnings? Try this.
Apple Inc. (NASDAQ: AAPL) reported earnings this Tuesday afternoon. Below is a live blog of the highlights, delayed by 10 minutes. The live feed is available on Benzinga Pro.
Further reading...Wall Street analysts react to the numbers.
-----End update-----
05:55:57pm: Apple products are used in every single S&P 500 company.
05:46:16pm: Cook says users of the iPad are six times greater than competitors.
05:34:25pm: Mobile users are switching from Android to Apple at the highest rate ever (as of last quarter).
05:33:28pm: Cook says he is incredibly bullish on the iPhone going forward, says it's doing well in every corner of the world.
05:19:19pm: The company has gained market share in 34 of the last 35 quarters, Maestri adds.
05:18:14pm: CFO Luca Maestri says the iPhone accounts for 53% of mobile use.
05:12:03pm: The company expects to ship the Apple Watch in April.
05:10:37pm: 2015 will be the year of Apple Pay, Cook says.
05:09:46pm: 80% of Panera Bread Co (NASDAQ: PNRA)'s mobile pay customers used Apple Pay.
05:06:20pm: Cook says results would've been stronger without forex volatility.
05:04:52pm: Cook Says App Store sales grew 41%.
04:43:05pm: Apple shares rise 5% after-hours.
04:37:10pm: Apple Q1 Americas revenue was $30.57B, up 23%.
04:36:55pm: Apple Q1 Rest of Asia Pacific revenue was $5.23B, up 33%.
04:36:45pm: Apple Q1 Japan revenue was $5.45B, up 8%.
04:36:40pm: Apple Q1 Greater China revenue was $16.14B, up 70%.
04:36:32pm: Apple Q1 Europe revenue was $17.21B, up 20%.
04:35:00pm: Apple Q1 iPhone revenue was $51.2B, up 57%.
04:31:27pm: Apple Q1 iPad unit sales were 21.4M.
04:31:27pm: Apple Q1 Mac unit sales were 5.52M.
04:30:44pm: Apple sells 74.5M iPhones over the holidays.
04:30:12pm: Apple reports Q1 EPS of 3.06 versus $2.60 Est., sales of $74.6B versus $67.69B Est.
Posted-In: Tech General Best of Benzinga
View Comments and Join the Discussion!