What Comes After The Apple Watch? 12 Patents Provide Clues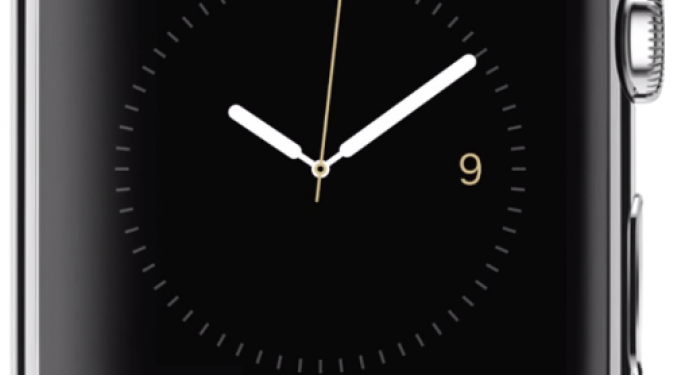 The Apple Watch is only a few months away from release. But what fresh product ideas could Apple Inc. (NASDAQ: AAPL) bring to the market?
1. Flexible Devices
Apple is known for wanting to build an iPhone with a sapphire display, but what about an iPhone that can bend freely and avoid the risk of breaking altogether? That is one of many new patents that were recently granted to Apple.
2. 3D Gesture Inputs
Will the iPads of tomorrow allow users to manipulate 3D objects using 3D gesture inputs? No one knows for sure, but Apple has an interesting patent that indicates the company is experimenting with this concept.
Related Link: Apple Investors: A Colossal Quarter Is Not Enough (But This Is)
3. Smartglasses
Google Inc (NASDAQ: GOOG)'s Project Glass may be dead in its current form, but that hasn't stopped Apple from exploring the possibility of developing its own eyewear. The company's intriguing concept does not appear to be anything like the HoloLens.
Rather, Apple's glasses will theoretically collect and organize data (such as facial recognition) for the wearer. It should be noted that Apple CEO Tim Cook is not a fan of glasses.
That viewpoint would quickly change if Apple decided to release a pair, however.
4. GoPro's Goodbye?
It seems as if there's a patent for everything -- including one for a device that could dethrone GoPro Inc (NASDAQ: GPRO).
Even more interesting is that Apple may use this patent to develop an iPhone that can take pictures and record sound underwater.
5. Removable Media Player
In one of its first patents related to the Apple Watch, Apple indicated that it wanted to develop a wearable device with a removable media player.
6. Kinect-Inspired Gesture Controls
Apple acquired PrimeSense, the company that helped Kinect come to life. Apple now owns a ton of cool, gesture control-related patents -- and recently filed additional patents in this space.
7. Glasses-Free 3D Projector
Three-dimensional TVs and devices are old news, but Apple owns a cool patent for a glasses-free 3D projector that could revitalize the concept.
8. Snap-On Keyboard And Game Controller
This new patent could be how Apple will solve its video game control problems.
9. Eye-Tracking Gaze Controls
No one has figured out how to effectively control a PC (or simply conduct a few actions) with eyes alone. Apple hopes it has a solution.
10. All-Glass Devices
Will a future iPhone be made of nothing more than a piece of glass? Not exactly, but the company has a patent that could turn science fiction into reality.
11. Problem Detection
Apple wants future iDevices to record information about the device's wear and tear.
12. Healthy Earbuds
Apple may release earbuds that can monitor the wearer's heart rate and blood pressure.
Disclosure: At the time of this writing, Louis Bedigian had no position in the equities mentioned in this report.
Image: Apple
Posted-In: Apple Apple Watch iPhone iPhone 6Tech Best of Benzinga
View Comments and Join the Discussion!