Google's Next Step To Control Your Smart Home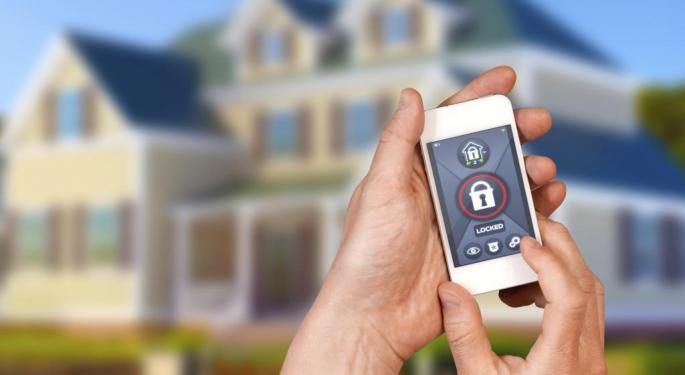 Apple Inc. (NASDAQ: AAPL) has manufactured its own smartphones for the past seven years while Google Inc (NASDAQ: GOOG), its chief competitor, chose to let other suppliers build Android devices.
These differing strategies have defined the two firms, one as a manufacturer and the other as more of a software developer.
In developing future smart devices -- specifically those for the home -- Apple and Google have reversed their roles. Apple typically manufactures its own products to maintain a certain level of quality. The company took another route and created a framework in iOS 8 for communicating with and controlling connected devices and appliances.
Google, on the other hand, acquired Nest Labs for $3.2 billion to build smart home products in-house.
"I think the cell phone is a very different animal," CRT Capital analyst Neil Doshi told Benzinga. "There's a few big players out there that really control the supply chain on that front. I think Google realizes that it's very hard to become a number-three or number-four player versus the smart home.
"It's a very nascent space and there's no clear-cut winner."
Doshi referred to Nest as the "Apple of the thermostat and smoke alarm" space. "They've clearly shown the ability to make very simple, very beautiful products," he added. "That fits really well into the wheelhouse of what Google is ultimately trying to do."
Related Link: Will Apple Inc., Others Thwart Amazon.com, Inc.'s Smart Home Plans?
Growth By Acquisition
Thus far, Google has not created any smart home products on its own. The company entered the fray by acquiring Nest, which later acquired Dropcam for $555 million. Nest recently picked up another startup, Revolv, for an undisclosed sum.
"It's unclear how important it will be for them," Pivotal Research Group analyst Brian Wieser told Benzinga. "They are clearly focusing on diversifying their overall business profile. But none of [these initiatives] really matter at this point today.
"It makes no difference in terms of [the] current period and even in future period expectations. It's noise in the context of the behemoth that is the advertising business for them," he added.
Doshi disagrees with this outlook; he thinks Dropcam and Revolv are "positive" moves for Google.
"I think they need to diversify outside of core search," he said. "Mobile is basically an extension of core search. If you think about where things are heading in the next five, 10, 15 years, people will want to control their homes from smartphones. They will want to be able to set their alarms and thermostats remotely and have things kind of learning so that there's less to worry about."
Doshi also praised Google's decision to let Nest run as a separate entity within the company. "I think [this] will ultimately drive better products and better product innovation versus Google stepping in and creating a big brother atmosphere," he added.
"Google has let YouTube kind of run on its own for a number of years and that's worked out well. I think the same thing with Nest. Nest wanted to buy Dropcam, so Google helped with the acquisition. I think being a part of a larger organization, being able to innovate faster and plug into Google's network, and also get access to Google's talent -- I think will be positive.
"As they bring more of these connected home devices, I think that will help drive more innovation on that front."
Disclosure: At the time of this writing, Louis Bedigian had no position in the equities mentioned in this report.
View Comments and Join the Discussion!
Posted-In: Apple Brian Wieser CRT Capital Dropcam Google HomeKit Neil DoshiTech Best of Benzinga