What Is Bitcoin? Just Ask Robocoin CEO Jordan Kelley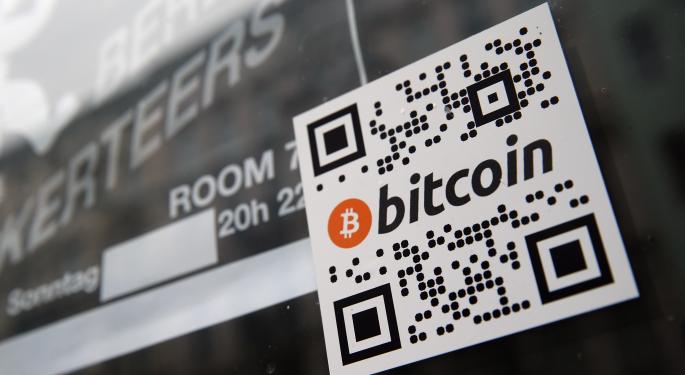 Earlier this year, Robocoin was the first company to install Bitcoin ATMs in the United States.
Originally, customers could trade Bitcoin for cash and vice versa at the ATMs by using a virtual wallet on their smartphones.
Robocoin recently came out with the Robocoin Wallet, a banking and remittance mobile application that makes it easy to create and manage a Bitcoin wallet.
The company also currently has more than 40 Robocoin ATMs at different locations around the world, including in Japan, Australia and the Czech Republic.
Related Link: Robocoin Brings Bitcoin ATMs To The United States
Robocoin CEO Jordan Kelley was kind enough to sit down with Benzinga and share his thoughts on why Bitcoin is valuable and what its future may hold.
Not Like Other Crypto-Currencies
BZ: What makes Bitcoin different than other crypto-currencies?
JK: Other than the fact that it was the first and the best invention, the vast majorities of other crypto-currencies are really clones of Bitcoin with a slight derivation. They will basically take the source code of Bitcoin, because it's open source, and will apply a few different tweaks to it. But ultimately, the invention that is Bitcoin is so remarkable and so important.
Really, what we are seeing now is companies like Robocoin, companies like Coinbase, that are really focused on building platforms on top of that Bitcoin protocol. Those platforms are what really make Bitcoin super, super useful.
BZ: I've heard people say that because Bitcoin is programmable and that you can do things like create unbreakable contracts. Is that true?
JK: Totally, that is the coolest part of it. It removes a lot of the necessary trust that was used back in the day. In order to execute a contract, you would need a third party to be the holder of the contract and make both people accountable.
The first #RobocoinWallet is live in Mountain View. Only #BitcoinATM that creates accounts to INSTANTLY buy, sell, store and send #bitcoin.

— Robocoin (@robocoin) October 1, 2014
Bitcoin, basically allows people -- entrepreneurs -- the ability to program that functionality and the block chain -- the global ledger -- that is distributed and is actively updated by the world's largest super computing power, which is the mining pool, is what basically holds people accountable to the contract that they find.
Unique Regulation
BZ: How is Bitcoin regulated?
JK: The way it really works right now with Bitcoin regulation -- it's kind of like, the on-ramp and off-ramp are both of the regulated parts. So basically, and this goes on a jurisdiction-by-jurisdiction basis, but you have FinCEN, the financial crimes enforcement network, say that Bitcoin is a virtual currency. Because of that, they are going to regulate Bitcoin or Bitcoin companies that basically exchange cash with Bitcoin or [U.S. dollars] for Bitcoin. They are going to govern those as money service businesses or something along those lines.
Related Link: Reggie Middleton On Why Bitcoin Is Valuable
Now, what that means is that companies like Robocoin or whomever it may be, need to make sure that when -- Well, Robocoin is not a money service business. Let me just clarify that. The guys who buy our machines are operators, they are in the money service businesses because what they do is they buy cash for Bitcoin or buy Bitcoin for cash. That is their business.
Operators, Producers And Consumers
BZ: So the people who operate your machines are the ones who buy and sell Bitcoin?
JK: Correct. They are the ones who operate these businesses, which means they have to adhere to anti-money laundering laws and know-your-customer compliance requirements. Really what that means, in a nutshell, is make sure you collect customer identification. Make sure your customers are not committing fraud and make sure that you have policies in place to avoid money laundering.
"The purpose of money is to purchase the freedom to pursue that which was useful and interesting." – Benjamin Franklin

— Jordan (@jordankelley) July 4, 2014
Basically, what we don't want is, we don't want to facilitate money laundering. I don't want people to take their cash acquired by illicit means and turn it into Bitcoin and then do other things with that Bitcoin. Ultimately, that is really a vast majority of regulations. It's just making sure that companies are collecting proper information, keeping records on all of their customers and just doing a good job overall making sure that they are not doing deals with illicit, nefarious characters.
Looking Ahead
BZ: Do you think Bitcoin will ever replace our mainstream currencies or maybe just compete on the same level as them?
JK: I think it offers a competing method for customers to engage in commerce. That's really all it is. Ultimately, we live in America; we live in a capitalist society. Competition is good. Competition is great.
Competition pushes everybody to gain to another level. I think that it is exciting. I think if you talk to anybody who is truly American and capitalist, they see the value in Bitcoin because competition is a good thing.
Posted-In: Bitcoin capitalism crytp-currency Jordan Kelley RobocoinRegulations Tech Interview Best of Benzinga
View Comments and Join the Discussion!