Will Adam Sandler, 'Crouching Tiger' Bring New Subscribers To Netflix, Inc.?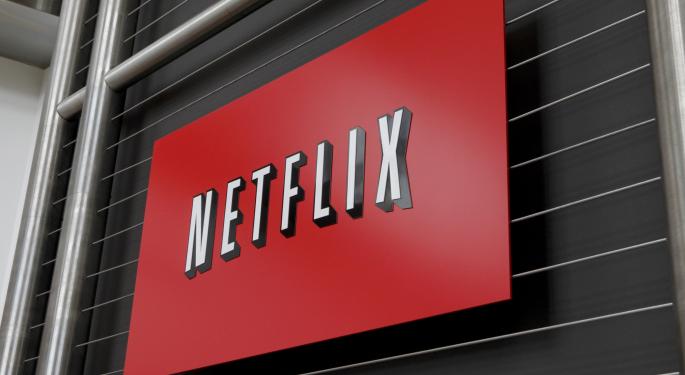 Netflix, Inc. (NASDAQ: NFLX) announced a number of exclusive deals recently, including plans to stream "Crouching Tiger, Hidden Dragon: The Green Legend" and the TV series "Gotham."
In October, Netflix also revealed it had secured a four-picture deal with Adam Sandler. No specific films have been announced, and no one knows how much Netflix will pay to produce them.
Critics, in particular though, don't like the deal. They say that Sandler's recent flops (including "Blended," which only made $46 million domestically) could be a sign of things to come.
"It looks like [Chief Content Officer] Ted Sarandos is making the rounds at the Hollywood retirement communities," Albert Fried & Company analyst Rich Tullo told Benzinga.
Related Link: Will Netflix, Inc.'s $40 Million 'Gotham' Gamble Pay Off?
Overseas Success
Business Insider has taken a different angle, pointing to Sandler's success internationally. Four of his last six films made more money in foreign markets than they did in the United States, it says. That list includes "Blended," which earned $80.5 million overseas.
"I think it's a non-event for Sandler, but I think the direction that they're going in is ideal," Brett Golden, president and co-founder of The Chart Lab, told Benzinga.
"I think the fact that they're bypassing the traditional channels is fantastic. They've done a fantastic job with the original content. We can all agree with that. I think it's a brilliant move. I don't think Adam Sandler's going to move the needle one way or another, but they're just getting the first couple under their belt and helping them out."
Dan Miller, senior analyst and founder of Opus Research, wonders if Netflix could do for Adam Sandler what it did for Kevin Spacey.
"These digital distribution services are flexing their muscles," Miller told Benzinga. "I think it's fantastic. I think the allure of working exclusively with the digital guys is becoming very real."
Related Link: Will Netflix Produce Another 'House Of Cards'-Sized Hit?
Crouching Tiger = New Subscribers?
Tullo may not be a fan of the Sandler deal, but he sees a lot of potential in the sequel to "Crouching Tiger, Hidden Dragon."
"The first movie made $200 million at the box office," said Tullo.
"Very popular movie. Probably did really well on DVD. But there's no guarantee that a movie like that will get to $200 million in today's box office. If they had put that movie out a few years ago, it would have done better at the box office."
Tullo added that "The Green Legend" is a little risky for The Weinstein Company, which will produce the movie. "But from Netflix's perspective, it kind of makes some sense," he said, adding, "there are [people] that would want to watch that movie that would join Netflix to do so."
This differs from Sandler, who may not have the power to lure more subscribers. "[When] you look at his audience, it seems like he'll get maybe the same three to four million people to go see his movies," Tullo remarked.
"That's okay, but it looks like those three to four million are pretty cross-coordinated to Netflix's own subscriber base. You can see where something like 'Crouching Tiger' could add 250,000 to a million subs in the quarter it's released."
Tullo also believes Netflix may have already acquired the Sandler fan base, thereby making that investment a bigger risk. "If the movie stinks, maybe they'll lose subs over it," he concluded.
"To me, it's not as attractive if Adam Sandler performs along the same lines as he's been performing."
Disclosure: At the time of this writing, Louis Bedigian had no position in the equities mentioned in this report.
Posted-In: Adam Sandler Albert Fried & Company Brett Golden Crouching Tiger Hidden Dragon Dan Miller Netflix Opus ResearchTech Best of Benzinga
View Comments and Join the Discussion!