6 Suppliers Most Likely To Be Found Inside Apple's iPhone 6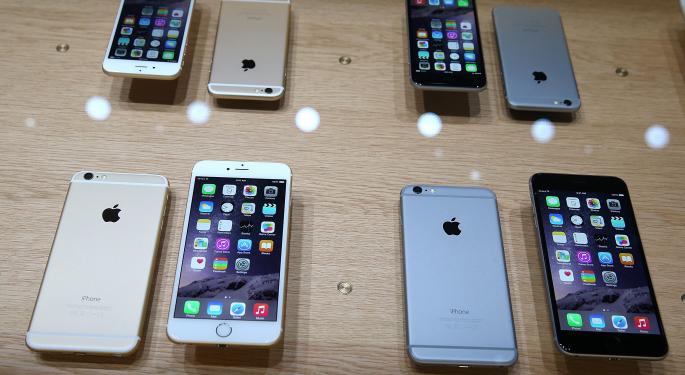 Apple Inc.'s (NASDAQ: AAPL) newest smartphone is right around the corner, so it's only a matter of time before a teardown reveals the full list of components.
Investors may not have to wait to find out whose components are inside the iPhone 6, however. There are enough clues to get a hint -- if not a clear picture -- of which firms are helping apple.
Read on to see which companies are most likely to be on board.
Related Link: iPhone 6 Pre-Order Record Points To 'Several Years' Of Ongoing Growth
1. Qualcomm, Inc. (NASDAQ: QCOM)
Qualcomm, a company that has built technology for almost every smartphone, is likely to be an iPhone 6 supplier.
Rumors claim that the company's MDM9625 (a Category 4 LTE modem) is on the new handset's logic board. The modem reportedly supports speeds of up to 150 Mbps -- a 50 percent improvement over the iPhone 5S.
2. NXP Semiconductors NV (NASDAQ: NXPI)
NXP Semiconductors appears to be supplying the NFC chip found within the iPhone 6.
3. ARM (NASDAQ: ARMH)
ARM is a licensing royalty company, not a chipmaker, but the company's architectures can be found in most mobile devices -- including the iPhone 5S. It appears that ARM will be back for the iPhone 6.
4. Sony Corp (NYSE: SNE)
Sony supplied the rear-facing camera for the iPhone 5 and the iPhone 5S. The Japanese tech giant is expected to be the supplier behind the iPhone 6's rear camera as well.
5. OmniVision Technologies, Inc. (NASDAQ: OVTI)
OmniVision could lose its contract with Apple in 2015. For now, the company may continue supplying sensors for the iPhone 6's front-facing camera.
6. RF Micro Devices, Inc. (NASDAQ: RFMD)
RF Micro Devices, another long-time Apple supplier, is poised to return for the iPhone 6.
Disclosure: At the time of this writing, Louis Bedigian had no position in the equities mentioned in this report.
Posted-In: ARM iPhone 6 iPhone 6 Plus NXP OmniVision Qualcomm RF MicroTech Best of Benzinga
View Comments and Join the Discussion!