3 Competitor Reactions To Apple Inc.'s iPhone 6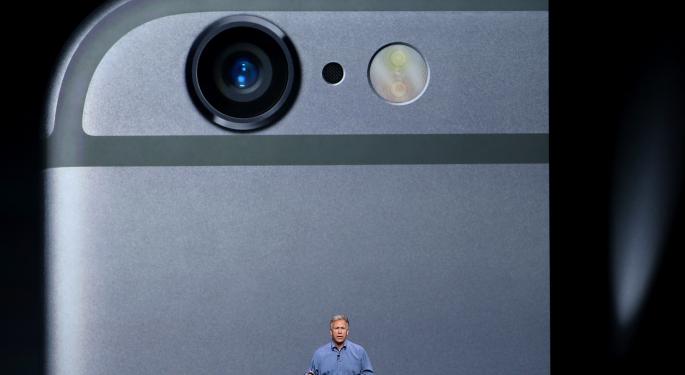 Apple Inc.'s (NASDAQ: AAPL) iPhone 6 and iPhone 6 Plus are having a big impact on the cellular device industry. So, how did three major companies react to Apple's big news?
Verizon Offered A $200 Gift Card
Verizon Communications Inc. (NYSE: VZ) hopes to retain its customers and secure new ones with a new promo. The company is offering a $200 gift card to anyone who trades an old iPhone 4, 4S, 5, 5C or 5S toward the purchase of an iPhone 6.
The iPhone 6 Plus is not included in the deal, and it should be noted that customers must sign a new two-year contract with Verizon. "There are 400 million phone [users] that have a very strong reason to upgrade because of two things: ability to pay and ability to use the [Apple] Watch," Global Equities Research analyst Trip Chowdhry told Benzinga.
Related Link: Top 5 Smartphone Trade-In Values
AT&T Topped Verizon's Offer
AT&T Inc. (NYSE: T) responded to the Verizon deal by announcing a promo campaign of its own. The carrier will offer as much as $300 to customers who trade an old iPhone toward an iPhone 6. According to Bloomberg, T-Mobile will top the best trade-in offer by $50.
Amazon Dropped Its Phone To $0.99
Last year, HTC lowered the price of its infamous Facebook phone to $0.99 (down from $99) because of lackluster sales. On September 8, Amazon.com, Inc. (NASDAQ: AMZN) followed suit and reduced the price of its ill-fated Fire Phone.
The retailer's handset sold for $199 when it was released in July; it can now be purchased for $0.99 with a two-year contract. The contract-free price has also been reduced from $649 to $449.
"I think that the phone price dropped because no one was going to pay $200," Rob Enderle, principal analyst at Enderle Group, told Benzinga. "What made Amazon successful was their massively subsidized, below-cost [devices]. For whatever reason, they launched that phone with a profit attached to it. I figure they were thinking, 'You can always lower prices but you can't bring them back up. Let's see what that $200 price point does for us.' It didn't do much."
Sean Udall, author of The TechStrat Report, said that he is not one to be critical of Amazon "because they've been amazingly successful."
"But to be honest, if I was Amazon, I don't think I would have launched a phone," Udall, who also serves as the CIO of Quantum Trading Strategies, told Benzinga. "The only way Amazon is going to sell any phones is if they make them super-cheap."
Chowdhry believes Amazon made the mistake of focusing on just one feature. "If a device is focused on one use case situation only, the device will be a commercial disaster," said Chowdhry. "For example, the Facebook phone was only focused on the use case of Facebook. Amazon's Fire Phone was only one use case, which was shopping. Failure. And so is BlackBerry -- one use case, enterprise. Failure. So is Microsoft -- one use case scenario, which is production. Failure."
Chowdhry said that a phone "has to be all things to all people."
"That's the reason why the Android phones and Apple phones will be the only phones that will be successful," he said. "No other."
Disclosure: At the time of this writing, Louis Bedigian had no position in the equities mentioned in this report.
Posted-In: Amazon Apple AT&T comments Fire Phone iPhone 6 iPhone 6 PlusTech Best of Benzinga
View Comments and Join the Discussion!