10 New Buzzwords And The Companies That Inspired Them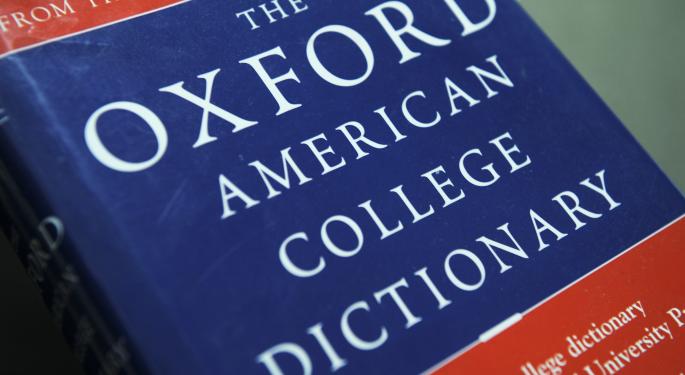 Britain's Oxford University Press is adding a bunch of words to its online Oxford Dictionaries.
Many of the words -- such as amazeballs ("extremely good or impressive") and neckbeard ("a growth of hair on a man's neck") -- sound like the names of rock bands. Side boob ("the side part of a woman's breast, as exposed by a revealing item of clothing") has already been used as the name of a fictional band in the Netflix (NASDAQ: NFLX) series Orange is the New Black.
Some of the words, such as YOLO, are merely abbreviations ("you only live once"). Others, like zonkey ("the hybrid offspring of a donkey and a zebra"), were inevitable words inspired by nature. There were some, however, that were created by the influence of various companies and industries:
1. Acquihire
Popularized by startup sites and tech blogs like TechCrunch, acquihire refers to the "act or instance of buying out a company primarily for the skills and expertise of its staff, rather than for the products or services it supplies." When Yahoo (NASDAQ: YHOO) acquired Blink, for example, it was referred to as an acquihire.
Related Link: 10 Overused Startup Buzzwords
2. Binge-Watch
Binge-watch cannot be tied to Netflix alone, but with a plethora of TV shows (including new originals), the company is heavily responsible for its inclusion in the Oxford Dictionaries. Binge-watch is defined as viewing "multiple episodes of (a television program) in rapid succession, typically by means of DVDs or digital streaming."
3. Catfish
The word catfish (to "lure (someone) into a relationship by adopting a fictional online persona") has been around for a few years, thanks to a documentary by Henry Joost and Ariel Schulman. In 2012, Viacom (NYSE: VIA) (NYSE: VIAB) launched Catfish: The TV Show on MTV, adding to the word's popularity and proliferation.
Related Link: 5 Advertising Mistakes Twitter And Facebook Should Avoid
4. Clickbait
Clickbait is defined as "content, especially that of a sensational or provocative nature, whose main purpose is to attract attention and draw visitors to a particular web page." Researchers have studied a large number of big publications -- including The New York Times (NYSE: NYT) -- to examine the words they use to attract readers. The results were fairly eye-opening.
5. Cord Cutter
Hulu and Netflix are definitely responsible for cord cutter's inclusion in the Oxford Dictionaries. They may not have coined the two-word combo, but these companies are the ones that made it possible for consumers to cut the cord. The dictionary defines a cord cutter as someone who "cancels or forgoes a pay television subscription or landline phone connection in favor of an alternative Internet-based or wireless service."
6. Brick
Everyone knows what "brick" means, but this new definition is very specific: "Cause (a smartphone or other electronic device) to become completely unable to function, typically on a permanent basis." Apple (NASDAQ: AAPL), Google (NASDAQ: GOOG) and Samsung (OTC: SSNLF), the leaders in this field, could be credited with unintentionally popularizing this definition. After all, no manufacturer would want to promote the fact that its phones could be bricked.
7. Listicle
Can any one company be linked to listicle ("an article on the Internet presented in the form of a numbered or bullet-pointed list")? That's hard to say, but lists are quite popular these days. Any number of publications could be credited with the spread of this word. Interestingly, BuzzFeed is used in the Oxford Dictionaries' example.
8. Live-Tweet
Live-tweeting (where individuals "post comments about (an event) on Twitter (NYSE: TWTR) while the event is taking place") may not sound like a real word, but its popularity did not go unnoticed this week. Its definition can now be found on the various sites from Oxford Dictionaries.
9. Subtweet
Another win for Twitter, subtweet is defined as "a post that refers to a particular user without directly mentioning them, typically as a form of furtive mockery or criticism."
10. Trackback
The origins of trackback ("an automatic notification sent when a link has been created to a person's blog post from an external website, allowing a reciprocal link to that website to be created") are hard to trace. However, it is safe to assume that the word's use may have been directly or indirectly popularized by any of the companies in this list.
Disclosure: At the time of this writing, Louis Bedigian had no position in the equities mentioned in this report.
Posted-In: acquihire Apple binge-watch BuzzFeed catfish clickbait cord cutterTech Best of Benzinga
View Comments and Join the Discussion!