Bitcoin Weekly Recap: Australian Stock Market, NCAA Football And iPhone Wallets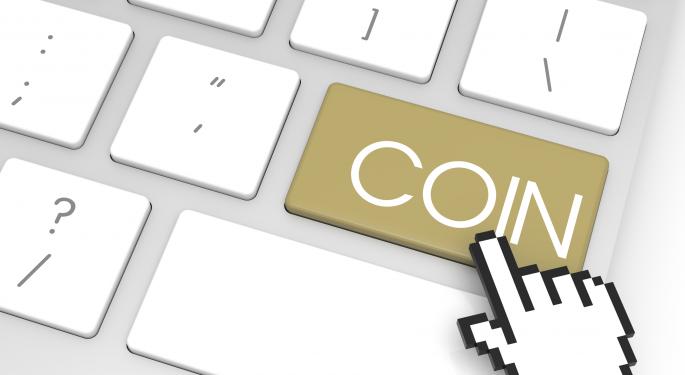 Bitcoin was packed with news this week.
A bitcoin company listed on the Australian stock market, bitcoin was embraced on the Apple platform, bitcoin was announced as coming to the NCAA and it was determined that bitcoin is even less anonymous than people thought.
Bitcoin Goes to the Australian Stock Market
On June 15, digitalBTC was listed on the Australian stock exchange trading under the ticker DCC. digitalBTC is involved in a range of products and services including a wallet, a marketplace, mining, payment services and trading.
Related Link: Will Bitcoin Be A Champion Like The Connecticut Huskies?
The listing enables institutions and retail investors to get exposure to the bitcoin asset class and the regulatory reporting requirements will provide additional transparency to the bitcoin ecosystem.
Bitcoin Coming to NCAA Football in December
The former Beef O'Brady's Bowl will now be known as the Bitcoin St. Petersburg Bowl, ESPN Events and BitPay announced Wednesday morning. In line with the bitcoin branding of the event, tickets and merchandise will be available for purchase with bitcoin.
A wildcard is whether or not fans will be holding up bitcoin signs hoping for digital donations.
iPhone No Longer Barrier To Bitcoin Adoption
Bitcoin wallets started being accepted into the Apple app store. To the surprise of many, Coin Pocket was the first wallet in the store and not the wallets offered by Blockchain, Gliph or Coinbase.
Apple's policy change is important because a key bitcoin-use case is using bitcoin as a wallet replacement. Unable to use a bitcoin wallet on their iPhone meant those users couldn't use bitcoin when out shopping or traveling.
New York Holiday Inn Piloting Bitcoin
A Holiday Inn Express in New York is accepting bitcoin. There was confusion this week when bitcoin businessman Charlie Shrem said the location would accept, but the hotel general manager said they were not currently taking bitcoin; the location confirmed Friday that it accepts bitcoin.
Another 10 Billion Revenue Company Accepts Bitcoin
Digital River, an e-commerce payment provider announced it will let customers accept bitcoin for U.S. payments. Digital River has clients such as Microsoft, Spotify, University of Phoenix and Trend Micro. Digital River uses Coinbase to process the bitcoin transactions.
Related Link: PayPal Should Use Bitcoin, Not Compete
U.S. Marshals Accidentally Disclosed Private Bidders
Next Friday, June 27, the U.S. Marshals will be auctioning off around $18 million worth of bitcoins. This week, as part of the auction process, the USMS inadvertently sent an email disclosing the identities of parties likely intending to bid on the bitcoins. The list is not a complete list of interested parties, but it includes a range of bidders and many prominent names from bitcoin company executives and investment firms.
Bitcoin Even Less Anonymous than Thought
Bitcoin was initially trumpeted as an anonymous currency. That myth has largely been debunked; this week, the University of Luxembourg published a study detailing how the bitcoin network may be able to reveal a user's home address or street.
Fortunately for mainstream users, this attack won't apply to them. The nature of the attack means users of popular wallet services like Coinbase and Blockchain are immune. Only those running a bitcoin node on their computer are vulnerable to the information disclosure.
Bitcoin Wallet Startup Raises $12 million
BitGo announced that it raised $12 million in financing. BitGo is a security platform, offering a wallet as well as a cloud security service for customers. It claims to be "the world's most secure bitcoin wallet."
Investors included SecondMarket, Redpoint Ventures, Ashton Kutcher's A-Grade Investments and others.
Disclosure: At the time of this writing David Smith has a long bitcoin position.
Posted-In: Bitcoin bitcoin weekly recap BitPayTech Best of Benzinga
View Comments and Join the Discussion!