Bitcoin Weekly Recap: Price Fraud, Mainstreaming And Remittance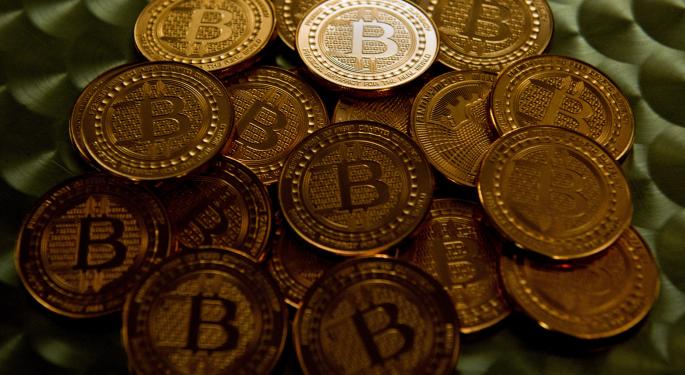 A bit of bitcoin-related excitment for the week ending May 30.
1) Evidence of price fraud at Mt. Gox, formerly the largest bitcoin exchange, surfaced. This led to questions about whether bitcoin's all-time high last year was based on fiction. While concerning news, the fraud may have actually benefited the bitcoin ecosystem, by generating greater interest in the cryptocurrency.
2) Dish Network (NASDAQ: DISH) announced they will begin accepting bitcoin payments in the third quarter of this year. With 14 million customers, 35,000 employees, and a $27 billion market cap, this news legitimizes bitcoin in some people's minds -- and provides opportunities for Dish to gain a competitive advantage.
In addition to helping its brand and adding customers, bitcoin could unexpectedly benefit areas like human resources, supply chain and sales.
Related: Was Bitcoin's All-Time High Fraudulent?
3) The U.S. Patent and Trademarks Office granted Amazon a patent for accepting payments without providing identifying information. The patent specifically mentions bitcoin as a mechanism for providing the payments.
Contrary to Amazon's April statement, that it will not accept bitcoin, this patent award makes it seem very likely Amazon will soon accept the digital currency. Accepting payment for resources on a digital cash pay-as-you-go basis could open up new use cases for Amazon's services, including allowing automated devices to provision services on an as needed basis.
4) The payment transfer service BitPesa is piloting a remittance service between the U.K. and Kenya. Many bitcoin supporters think remittance could be bitcoin's killer app, saving some of the worlds poorest people billions of dollars per year.
The existing remittance industry has often stated that much of their costs consist of regulatory compliance. If BitPesa's experiment is successful, companies like Western Union will have to adapt or go out of business.
5) BitPay announced it is processing $1 million per day in bitcoin transactions. Many bitcoin doubters believe there is not much legitimate commerce. BitPay's announcement shows that isn't true and that it expects its volume to triple by the end of the year. This lends credence to the report that bitcoin transaction volume will surpass PayPal's this year.
6) QuickCoin announced the launch a very simple-to-use Facebook Integrated bitcoin wallet this week. The app achieves the goal of making a simple interface for users.
Unfortunately, QuickCoin doesn't provide new users with any bitcoins to share, so most customers will be unable to do anything with the app. Those in the know will head to Coinbase, purchase bitcoins and fund their account.
Disclosure: At the time of this writing David Smith has a long bitcoin position.
Posted-In: alternative currency Bitcoin BitPay BitPesa digital currencyTech General Best of Benzinga
View Comments and Join the Discussion!