Netflix And Comcast In War Of Words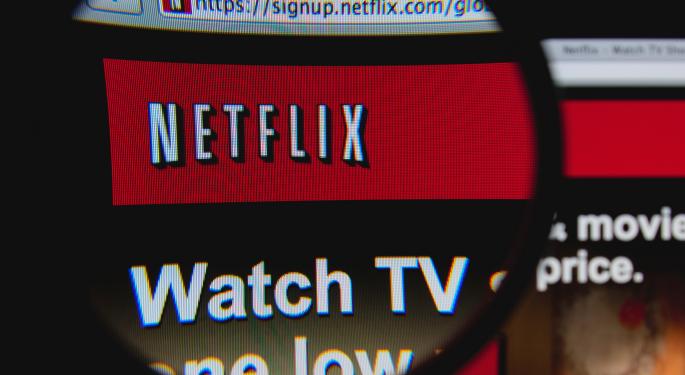 Netflix (NASDAQ: NFLX) announced earnings yesterday that made investors so happy that they bid the stock up about eight percent. Yesterday the company also announced its opposition to the Comcast (NASDAQ: CMCSA) Time Warner Cable merger.
A war of words has ensued.
Netflix wrote yesterday, "If the Comcast and Time Warner Cable merger is approved, the combined company's footprint will pass over 60 percent of US broadband households". Netflix continued, "Comcast could control high-speed broadband to the majority of American homes."
Related: Netflix CEO Calls Interconnection Fees An "Arbitrary Tax"
One of the reasons that Netflix is so sensitive to the matter is because of its new agreement with Comcast where it pays to have access to the same bandwidth that Comcast uses to stream media free of interference from normal Internet traffic.
The agreement assures that Netflix's programming has a clear line to its subscribers—something CEO Reed Hastings believes should not require a fee. In late March, Hastings wrote a blog post where he called such fees an "arbitrary tax."
"The Internet is improving lives everywhere – democratizing access to ideas, services, and goods. To ensure the Internet remains humanity's most important platform for progress, net neutrality must be defended and strengthened," Hastings said.
Comcast Fires Back
In a press release yesterday Comcast had strong words for Netflix.
The company wrote, "Internet interconnection has nothing to do with net neutrality; it's all about Netflix wanting to unfairly shift its costs from its customers to all Internet customers, regardless of whether they subscribe to Netflix or not."
The company went on to basically say that Netflix isn't being unfairly singled out in its interconnectivity deal. Companies like Limelight, Google, and Akamai already have deals with Comcast and other broadband providers.
Sounding a little like a schoolyard squabble, Comcast said, "In fact, Netflix approached us for this direct connection between Netflix and Comcast."
Comcast finished the release by accusing Netflix of having ulterior motives. Comcast wrote that Netflix coming out against the merger has nothing to do with protecting the greater good by preserving the openness of the Internet. Instead, it's about Netflix not wanting to invest in the infrastructure that it uses to make money.
Is Netflix's argument about the Comcast/Time Warner merger or about interconnectivity fees? Netflix believes that if Comcast controls more of the pipelines to peoples' homes that it will charge more. Comcast, along with every other company that builds out the infrastructure to get signal to homes and businesses doesn't believe that companies like Netflix can reap the benefits of its infrastructure (and make a lot of money) without investing in those build out efforts.
Disclosure: At the time of this writing, Tim Parker had no position in the companies mentioned.
View Comments and Join the Discussion!
Posted-In: Comcast Netflix Reed Hastings time warner cableTech Best of Benzinga