6 Reasons Google Glass Needs More Positive Buzz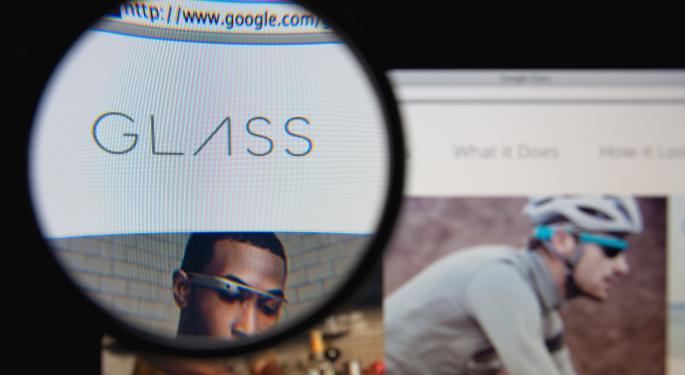 Google (NASDAQ: GOOGL) Glass's April 15, one-day-only product launch didn't exactly get the mass demand that a new iPhone enjoys. Now journalists, analysts, and techies are hammering the final nail in the glass coffin.
The same tired arguments are finding new life this week—it's a privacy invader, it's awkward, you look like a nerd that might as well wear a few of those dorky Bluetooth things in your ear, etc.
Although the public doesn't cry foul every time they walk into a retail store full of cameras at every turn, the privacy criticisms are legitimate. That, at least for now, might make this product a tepid seller to the retail customer.
Related: Get Your Google Glass On: April 15
Six Strong Uses For Glass
But there's no reason for that nail in the coffin. Glass could be an exceptional product for a variety of uses.
TV Enhancement- What if you were watching an NFL game and you could pull stats or other enhanced content? How about information on an actor while watching a movie? Deeper information about a certain news story?
Health stats- There's already the Nike FuelBand but what if key health data were right in front of your eyes? You could jog at your maximum heart rate without having to monitor a tiny screen strapped to your arm.
Instruction- Want to cook a soufflé but don't know how? Pull a YouTube video up on your glass. Apple doesn't want you touching its beautiful devices with greasy hands anyway.
Navigation- Apple has its in-the-car service and we all have navigation apps on our phone but looking away from the road to view the map doesn't win us any safety awards.
Military- Now we're getting somewhere. What if military personnel on the battlefield could look at real-time satellite imagery?
What if a central command post could push key data to soldiers and soldiers could send enhanced imagery back to decision makers—all without adding extra weight to an already heavy arsenal of equipment?
Healthcare- This video is only one way that the healthcare landscape could be revolutionized. Imagine Glass alerting a doctor or nurse of a wrong medication or possible interaction?
How about a surgeon pulling up information about a patient or sending images to medical students? How about the ability to connect with an off-site doctor in real time to diagnose an issue?
Upping your fantasy sports skills might not be a, "let's make the world a better place" kind of thing. But preventing some of the many deaths that come from hospital errors is.
Sure, it might not take off in the mainstream, walk around the mall world, but Glass has plenty of professional use cases. Don't count it out just yet.
Disclosure: At the time of this writing, Tim Parker had no position in the company mentioned.
Posted-In: Glass GoogleTech Best of Benzinga
View Comments and Join the Discussion!