Blackberry May Leave The Handset Business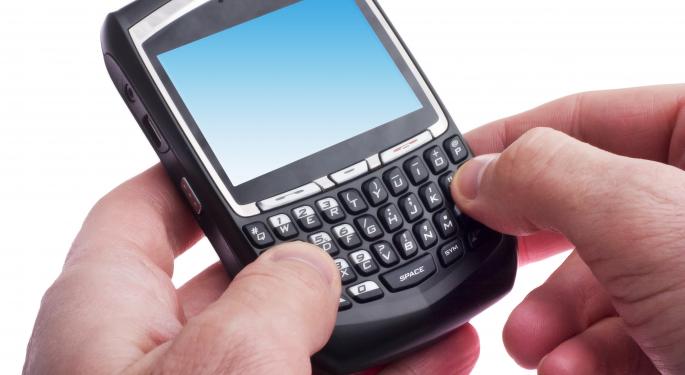 Everybody believes that it's only a matter of time before the BlackBerry (NASDAQ: BBRY) phone takes its place in a museum along side the Motorola DynaTAC phone (that giant "mobile" phone unveiled in 1984).
But so far, Blackberry has stubbornly stayed in the business. That's despite losing more than 80 percent of its market share since Apple and Samsung took over the cell phone world.
Blackberry CEO John Chen isn't married to the idea of offering handsets. According to a Reuters story, Chen will consider exiting the handset business if it remains unprofitable.
According to Chen, "If I cannot make money on handsets, I will not be in the handset business."
Related: A New Computer Bug May Leave Your Information At Risk
Chen added that he won't take long to make the decision. Still, he believed Blackberry could make money in that market by shipping as few as 10 million units per year—well below the 52.3 million Blackberry shipped at its peak in fiscal 2011.
Chen is looking more at the enterprise business—an area where Blackberry is seen as a leader. He said that since all of the cyber security breaches in the recent past, businesses are now more focused on the security of their networks and the information stored within. 
Chen's long-term plans for the company include capitalizing on the machine-to-machine market. M2M is technology that allows wired and wireless systems to communicate with each other.
For example, one device, such as a sensor, takes a reading, which is relayed through a network. The information is picked up by a software program that translates the data into useful information. Modern residential implementation of M2M includes technologies like internet-connected appliances or home automation systems.
"We are not only interested in managing BlackBerry devices. We are interested in managing all devices that you would like to speak to each other," he said. "To achieve our dream of being a major player in M2M requires more partnerships with others," including telecom companies eager to participate.
Chen also has plans for M&A. He said that he's looking into partnerships with healthcare, financial, and legal services companies as well as acquiring companies in the cyber security space.
Blackberry's last financial statement included losses of $423 million and a 64 percent drop in revenue. Chen hopes to be cash flow positive by the end of this year and become profitable by fiscal 2016.
Disclosure: At the time of this writing, Tim Parker had no position in the company mentioned.
Posted-In: Apple Blackberry john chen SamsungTech Best of Benzinga
View Comments and Join the Discussion!