A Spec Play To Cash In On The Mobile Advertising Craze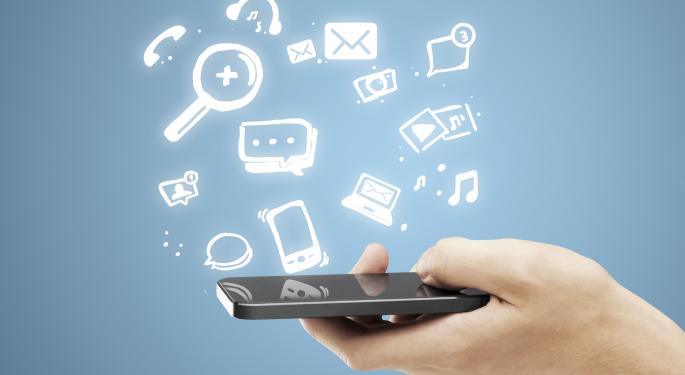 With more than 50 percent of the U.S. population expected to own smartphones by the end of 2014, advertisers are clamoring to figure out how to get their message onto consumers' smart devices. Lately, Bluetooth has taken over conversation as Apple has made a very public push with its iBeacon technology.
But if you want to be an early investor into this space, how do you do it? If you're ok with a speculative play, do some research into Mobiquity Technologies (OTC: MOBQ). The $24 million company primarily resides in the mobile advertising space, betting on the rise of location-based marketing.
Here's how it works. If you go to a mall or other public place where Mobiquity's mobile ad network is installed, you might receive ad-related content on your phone. These "interactive zones" are placed near mall entrances, escalators, anchor stores and other high traffic areas and are meant to reach on-the-go shoppers who may not stop to view store sales or compare prices.
The technology uses Bluetooth, Wi-Fi, and Beacon LE Technology—techie terms that simply mean that the signal stays confined to certain areas giving the advertiser the ability to cater ads to a person's likes. A teenager who goes into a teen-oriented apparel store, for example, might receive an ad specific to that store.
Related: Candy Crush Maker Raises IPO Valued At $7 Billion
In Mobiquity's case, the promotion is often more global. The company announced earlier this month that Lions Gate Entertainment signed its fourth deal with the company to promote its film, Divergent, currently in theaters.
Lions Gate produced a tailored mobile movie trailer and an option for an automatic calendar reminder that prompted consumers to purchase a ticket on opening day. Mobiquity pushed this through its mobile networks.
But Wednesday, the company announced a new service that allows stores to target its customers even more. Mobquity is releasing a software development kit (SDK) that allows companies to incorporate its technology into their mobile apps. While the news is big for IT enthusiasts, what it means for investors is that companies can tap into Mobiquitiy's large and growing network that includes 3,000 retailers and more than 15,000 storefronts with about 120 million monthly impressions.
If you're a smartphone user you've already experienced push notifications and location-based services (like Google Maps), but Mobiquity's network allows a store to target customers down to as little as 1 foot. If you walk by a shelf that has an item on sale, you might be alerted, for example.
While this beacon technology is considered the next frontier for mobile advertising, there are some problems. First, receiving the ads requires the user to opt-in, turn on Bluetooth on their device, and in some cases, have certain apps open to receive the messages. Apple, in its latest iOS update, made these restrictions more advertiser friendly, but companies constantly walk the line of adding value through mobile advertising versus annoying customers.
Related: Facebook's Oculus Buy Could Change The Face Of Social Media
Mobiquity is the largest mobile ad network in the world but with little infrastructure in place, the company is still not profitable. In its most recent filing dated March 21, Mobiquity posted a net EPS loss of $-0.14 last year compared to $-0.16 the year prior but as the company stated, it's still in build-out mode for its technology.
According to the filing, "The increase in our loss from operations for 2013 as compared to the comparable period of the prior year was primarily due to the cost of growing our infrastructure within Mobiquity Networks, the additional sales time it is taking to develop our Mobiquity Networks sales and substantial increases in non-cash stock based compensation, rent, commissions, insurance, professional fees and payroll expense as described herein."
Should you invest in the company? Apple is generating a lot of excitement over proximity-based technology. That can only help companies like Mobiquity Technologies but if it fails to catch on with consumers, it could be a tough road ahead for the company.
As it said in its most recent filing, "Our ability to be profitable in the future is dependent upon the successful introduction and usage of our location-based mobile marketing services by advertisers."
There's often a place in your portfolio for speculative plays but keep low volume, micro-cap names in proper allocation.
Disclosure: At the time of this writing, Tim Parker had no position in the company mentioned.
View Comments and Join the Discussion!
Posted-In: Apple iBeacon mobile advertising Mobiquity NetworksTech Best of Benzinga