Did Apple Die With Steve Jobs? You Tell Us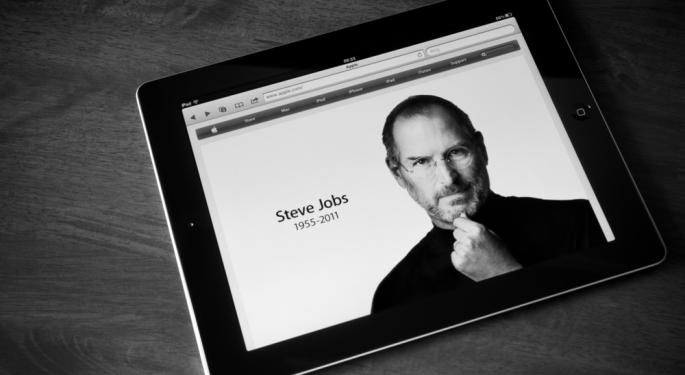 This past Saturday, October 5, was the two-year anniversary of the death of Steve Jobs, Apple's (NASDAQ: AAPL) cofounder.
"Steve was an amazing human being and left the world a better place. I think of him often and find enormous strength in memories of his friendship, vision and leadership," Apple CEO Tim Cook said in a letter to all Apple employees Friday. Over the weekend, he also tweeted this:
Second anniversary of Steve's death. Going on a long hike today and reflecting on his friendship and all the dents he made in the universe.

— Tim Cook (@tim_cook) October 5, 2013
A lot of "blasts from the past" were published including a New York Times account of the evolution of the iPhone. Particularly interesting was the fact the phone and apps unveiled in Jobs' presentation were unfinished. The design team was reportedly so nervous that some part of the phone would crash that they were drunk during Jobs' presentation.
Along with articles looking back at the not-so-public side of Jobs, there's no absence of articles asking if Apple died with its co-founder. Forbes' version, "Two Years Ago Apple Lost Jobs; Has it Lost its Way?," argues that CEO Tim Cook is unfairly judged against the Jobs legacy and that no company can sustain the growth of the Jobs-era Apple indefinitely.
Motley Fools' version, Steve Jobs Died 2 Years Ago Today, Did Apple Die With Him?, in the form of a video, indicates that before the passing of Jobs, he laid out a four-year plan which, in theory, means that there may still be two more years worth of the Steve Jobs playbook before the current team has to invent, innovate, and execute on their own.
Remember when Oracle (NASDAQ: ORCL) CEO Larry Ellison said this about the post-Steve-Jobs Apple?
"…we conducted the experiment. I mean, it's been done. We saw Apple with Steve Jobs. We saw Apple without Steve Jobs. We saw Apple with Steve Jobs. Now, we're gonna see Apple without Steve Jobs."
Related: Four Apple Headlines from Thursday You Might Have Missed
There's also the age-old argument that the stock is undervalued compared to its peers. That either means that investors don't see the growth in Apple that they do in other tech companies or the stock has plenty of upside in its future—the bet that billionaire activist investor Carl Icahn is making.
Bill Miller made headlines last week when he said, "It just makes no sense for Apple to trade where it is: Seven times enterprise value to free cash flow."
As the overused investing cliché says, "this is what makes a market." Some of the smartest investors around the world can't agree on the future of Apple. What do you think? Take our survey below and let us know.
Disclosure: At the time of the writing, Tim Parker was long Apple.
Posted-In: Apple Bill Miller Carl Icahn Larry Ellison Oracle Steve Jobs Tim CookTech Best of Benzinga
View Comments and Join the Discussion!