All the Proof You Need That People Hate The New Yahoo Logo (YHOO)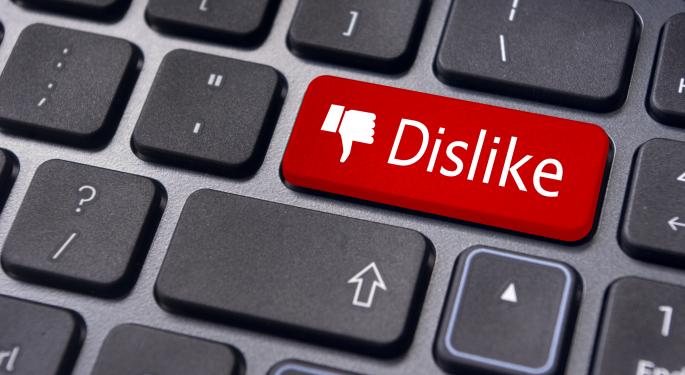 It's official.
The new Yahoo! (NASDAQ: YHOO) logo has been out only a few days and already people hate it. Not everybody but judging by the grumpy hashtag #yahoologo and the glut of articles written on it, the logo isn't likely to win any design awards.
Over the past 30 days, Yahoo! has featured the logos that lost out to the newly unveiled design. According to her post on Tumblr, CEO Marissa Mayer sees herself as a graphic designer and spent an entire weekend with a team of artists designing what is the new logo.
Related: Your Facebook Friends May Affect Your Credit Score
What they came up with is apparently "whimsical" but it's not impressing much of anybody from the ordinary customer to those who make a career out of graphic design. (If you're interested in reading about the science of "whimsy", check out this entertaining article.)
First the pros. Typography blog, "Fonts In Use" ran a story that gave pretty compelling evidence that the logo is nothing more than the already existing Optima with some amateurish changes. It said, "but what distracts me most is how crammed these letters are — and unevenly so. Looking at each of the pairs ('AH', 'HO', 'OO')… It's a classic mistake made by those who are new to working with type."
How about the everyday consumer? One gauge of sentiment is twitter so let's take a small sampling:
I think I would find the new Yahoo! logo 25% less awful if it didn't have those curves cut out of the top of Y, A & H http://t.co/prBVzOuDzE

— alanbenzie (@alanbenzie) September 6, 2013
That's not a logo, that's a disaster - http://t.co/vjsOi7mXOv

— Nico M. ten Hoor (@Nicoooooooon) September 6, 2013
But maybe people don't hate it as much as people think:
More women than men prefer the New Yahoo logo - http://t.co/TczvRzFjxd

— Usurv (@Usurv) September 6, 2013
Of course, every armchair graphic designer has come out of the woodwork to offer their seemingly better take on the Yahoo! logo. In fact, 99 designs received more 5,000 new ideas—30 of which you can view here.

And if you're in the mood for a trademark infringement lawsuit, stop by this clever logo generator that will spit out your brand in the new Yahoo! logo style.

For those who aren't fans of the logo, let's at least admit what we all know: we hate change and the proof is right here! Every time Facebook (NASDAQ: FB) redesigns anything, we throw a fit. When Apple (NASDAQ: AAPL) unveiled iOS7, we hated the flat design. When Yahoo! redesigned its homepage, we made a first-world problem out of it but in all of these, we got used to it.
It's safe to say that soon, people will forget about how much they hate the logo and ironically, for Yahoo!, that's not a good thing. (As long as people are talking about you, that's a good thing—unless you're Anthony Weiner)
Disclosure: At the time of this writing, Tim Parker was long Apple.
Posted-In: Apple Facebook Marissa Mayer twitter YahooTech Best of Benzinga
View Comments and Join the Discussion!