Should Game Makers Worry About the Shift to Non-Gaming Entertainment?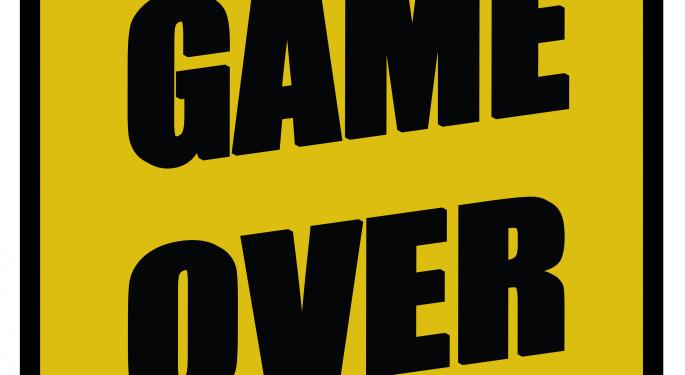 In 2012, Yusuf Mehdi -- the man in charge of Microsoft's (NASDAQ: MSFT) interactive entertainment business -- told the Los Angeles Times that the average Xbox-owning household spends an average of 84 hours a month using Xbox Live.
While gaming continues to be a popular draw for the console, it has not become the primary reason why people turn it on.
"What we're seeing is that people are turning on the Xbox to play games and then keeping it on afterwards to get other types of entertainment," Mehdi told the Los Angeles Times.
In fact, the publication reported that consumers now spend more of their time using Xbox 360 for online video than for online gaming.
There have not been any studies confirming that the same has happened with Wii or PlayStation 3, but Sony (NYSE: SNE) proudly announced that its console had become the number-one living room device for Netflix (NASDAQ: NFLX) subscribers last December.
The console has been so successful in this regard that there have been times when more people turned to PS3 for Netflix than for any other platform -- including PCs and tablets.
In April, NPD DisplaySearch reported that game consoles lead the pack among TV devices that can connect to the Internet.
This is great for overall hardware appeal -- but is it good for the gaming industry?
Mehdi's statement seems to be fairly accurate. Game consoles have always been sold first to consumers who want to play games. If they only cared about non-interactive entertainment, consumers would simply subscribe to cable or buy a set-top box.
By offering a greater variety of entertainment options, the assumption is that consoles can appeal to a greater number of consumers. This is also true -- but it is not without risk.
When Sony unveiled PlayStation 4, it chose to ignore non-gaming entertainment and focus exclusively on why this is a console that gamers should buy.
In an interview with Forbes, Sony Computer Entertainment America President and CEO Jack Tretton explained why.
"If you wanna have an event to talk about multimedia capabilities, we'll proudly stand up and list all the media partners that we have, and the fact that we're the number one most used Netflix device around the world," said Tretton. "But the 3.1 million that streamed [Wednesday's event] and that stayed up at all hours depending on what country they were in, they were there to see games."
The 3.1 million viewers that he referred to were only in the United States. Worldwide, Sony's event drew more than eight million viewers.
This is the same strategy that Sony took with PSone (which sold 104 million units) and PS2 (which sold 153 million units).
When promoting PlayStation 3, Sony shifted to other things. While gaming was still a big part of the console, Sony heavily pushed the Blu-ray player that was built into every unit.
As many investors are aware, PS3 only sold 74 million units.
Similarly, Nintendo (OTC: NTDOY) tried to make up for the lack of new Wii U games by promoting a number of promising TV services. While the console sold very well last fall, Wii U ultimately flopped during the first quarter when sales plummeted more than 85 percent.
Thus, while it is acceptable (and perhaps wise) for console manufacturers to offer services beyond video games, it is best to start by satisfying the core gaming audience. If nothing else, that guarantees that at least some people will buy the device.
If the aforementioned trend continues, however -- if games are the initial draw but TV and movies keep users coming back -- it could be a problem for those who only develop games.
Activision (NASDAQ: ATVI), Electronic Arts (NASDAQ: EA), Konami (NYSE: KNM), Take-Two Interactive (NASDAQ: TTWO) and other game companies heavily rely on the success of new consoles.
Sony, Microsoft and Nintendo may get consumers in the door, but if the aforementioned developers can't keep them coming back, the industry is in trouble.
Over the past 10 years, several high-profile game publishers have fallen, including THQ, Acclaim and Midway. While it does not appear that another one is about to file for bankruptcy, there is one whose future is in question: Electronic Arts.
Between the troubled launch of the new Sim City, the closure of several Facebook (NASDAQ: FB) games, the award for 'Worst Company in America' (for the second year in a row), and the widespread layoffs, things are not looking good for EA.
Louis Bedigian is the Senior Tech Analyst and Features Writer of Benzinga. You can reach him at 248-636-1322 or louis(at)benzingapro(dot)com. Follow him @LouisBedigianBZ
Posted-In: Acclaim Activision electronic arts Microsoft Midway Netflix NintendoTech Best of Benzinga
View Comments and Join the Discussion!