How Many Tablets Does the Market Have Room For?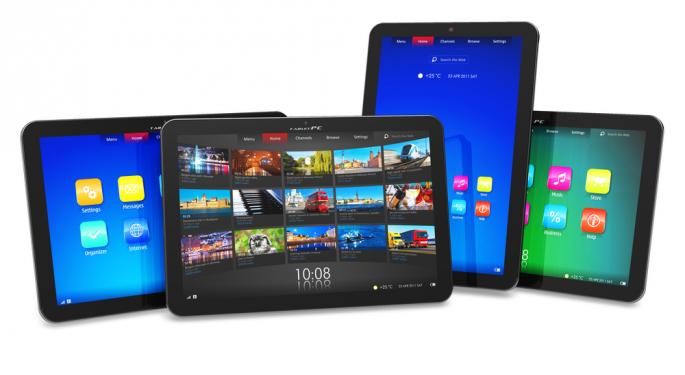 Surface. iPad. Nook HD. Kindle Fire HD. iPad Mini. The list goes on and on. Consumers can try to escape the onslaught of new tablets, but they are inescapable.
Apple (NASDAQ: AAPL) Sony (NYSE: SNE), Samsung, Asus, Acer, Dell (NASDAQ: DELL), Hewlett-Packard (NYSE: HPQ) and Barnes & Noble (NYSE: BKS) are among the many companies that have developed at least one tablet. Some of these companies are attempting to expand the market with the so-called tablet hybrids, which take advantage of Windows 8.
Microsoft (NASDAQ: MSFT) released its first tablet, Surface, on October 26. In the days after its arrival, the rumor mill began to churn out new reports of an Xbox tablet. This device would be geared toward the gaming market, which has already provided Microsoft with hundreds of millions of dollars in annual revenue.
In 2013, all of the existing tablet makers are expected to upgrade and re-release these devices. This will lead to a fifth-generation iPad, a second-generation iPad Mini, a third-generation Kindle Fire, and so on. If that were the extent of tablet releases, consumers might be able to handle them. But these upgrades do not even include the possibility of new devices, which are sure to appear. Microsoft is not the only one trying something different. The next 12 months are likely to bring a wide array of new tablets from a large number of manufacturers.
Stroll the aisles of any Best Buy (NYSE: BBY) to get a glimpse of the many tablets that have been produced in 2012. They are not all from big-name manufacturers.
From 2010 to 2012, the number of tablet producers has greatly multiplied. Now Google (NASDAQ: GOOG) is getting into the mix, albeit with a little help from Asus and Samsung. In 2010, Amazon (NASDAQ: AMZN) was not making tablets. Barnes & Noble was not either. But they are now -- and they likely will be for many years to come.
If the global market was large enough, this might be a positive development. The industry is quickly approaching the point of over-saturation. Apple has already sold 100 million tablets. Between the various Android tablets available, it is safe to assume that there are another 30 to 40 million on the market. How many more tablets can these companies realistically expect to sell?
Tablets differ from smartphones in that they are not throwaway devices. Consumers do not buy them with the intent of acquiring a new tablet in 12 to 24 months. Granted, there are some consumers who happily upgrade every time a new iPad is released, regardless of the associated expense. But if tablets need to be replaced frequently, consumers are likely to stop buying them.
Right now it appears that there definitely are too many similar tablets on the market. Microsoft might be smart to develop one for gamers, since that market has yet to be completely fulfilled. But there are only so many differences that can be applied to a device that is supposed to do everything.
Thus far, Apple, Google, Amazon and Samsung are the only four companies that have had genuine success in the tablet space. In 2010 and for most of 2011, there was only one company on that list -- Apple. Despite the company's success, at least one analyst believes that Apple was forced to release the fourth-generation iPad this fall because of stale iPad sales. That strategy seems to have worked. In just one weekend, Apple sold another three million tablets.
Regardless, the tablet market can only go so far. With such a large number of players entering the space, it won't be long before tablet sales peak.
Follow me @LouisBedigianBZ
View Comments and Join the Discussion!