AT&T Sets New Sales Record with iPhone 5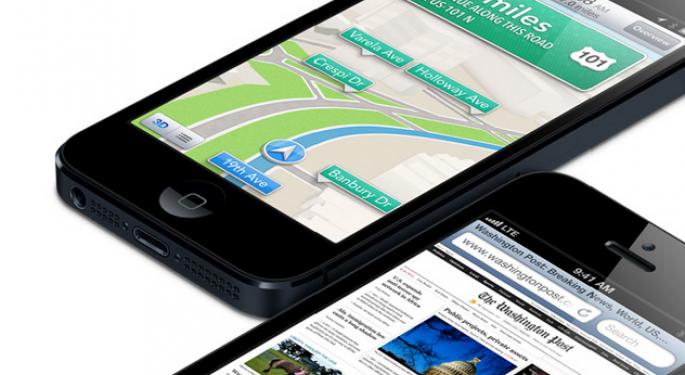 Apple's (NASDAQ: AAPL) long-awaited smartphone has helped AT&T (NYSE: T) achieve a new sales record this weekend.
Early Monday morning, AT&T announced that customers pre-ordered more iPhone 5 units than any previous model, both on the first day that pre-orders began and over the entire weekend.
This is not the first time that the iPhone 5 managed to set a new record. Last week, iPhone 5 pre-orders were so high that Apple was forced to delay shipment for additional orders after just two hours.
In 2011, AT&T provided some perspective on sales of Apple's previous smartphone, the iPhone 4S, when it announced that it had activated one million units less than one week after the device was released.
Sprint (NYSE: S) also benefited from the release of the iPhone 4S, which helped the carrier add 600,000 new customers during the last quarter alone.
More than one million consumers pre-ordered the iPhone 4S before it was released. The device went on to sell four million units during its first weekend of availability.
The iPhone 5 is expected to break many of the records set by the iPhone 4S, even if there is a shortage of supply. However, any possible shortage could keep Apple from achieving overall sales that are on par with the iPhone 4S, which sold 37 million units in its first quarter.
Thus far, no other individual smartphone has been able to compete with the iPhone 4S. Collectively, however, Samsung phones have trounced Apple by more than 20 million units. Samsung's sales are not limited to smartphones like the Galaxy S III and the Galaxy Note I and II. The company also produces low-end feature phones for a wide variety of markets worldwide, particularly those where smartphones are less popular. This gives Samsung an advantage over Apple, which only produces premium products.
Samsung also sells phones for a variety of pay-as-you-go wireless networks. During the summer, Apple began to venture into this market when it announced that the iPhone 4 and the iPhone 4S would come to Cricket Wireless and Virgin Mobile. Last week, Cricket Wireless announced that it would be the first pay-as-you-go carrier to offer the iPhone 5.
Follow me @LouisBedigianBZ
Posted-In: Apple AT&T Cricket Wireless iPhone 4 iPhone 4S iPhone 5 SprintTech Best of Benzinga
View Comments and Join the Discussion!