Is This Sony and Nintendo's Worst Nightmare?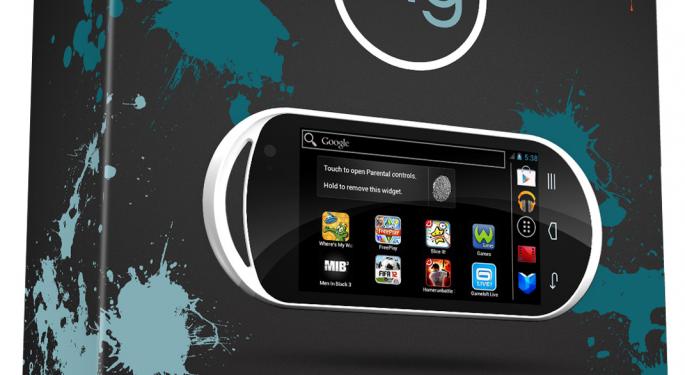 The game industry is set to receive a fresh and unexpected competitor this November from PlayMG, a brand-new startup. Will this Android-based gaming device prove to be Sony (NYSE: SNE) and Nintendo's (OTC: NTDOY) worst nightmare since the iPod Touch?
Designed for the kid, tween, and teen markets, PlayMG's device -- officially titled MG (More Games) -- features a four-inch screen, 1GB RAM, and 4GB of built-in memory, as well as a TCC8925 Cortex A5 processor. The specs are not enough to overthrow the $249 PS Vita or the $199 Nintendo 3DS XL. However, MG's lower, $169 price tag could play a role in swaying parents' buying decision this holiday season.
As an Android-based device, MG can play more than 60,000 downloadable games, many of which retail for less than $10. That could also be an influential element. PlayMG may hope that kids want the device, but it only needs to win the support of parents. This is a key part of the company's strategy.
In a phone interview yesterday afternoon, PlayMG Founding Partner T. Scott Edwards told Benzinga that he didn't care "how cool" the Nintendo 3DS XL is because "no one wants to pay $40 for a packaged game for Super Mario when you can get Angry Birds for free or 99 cents." His opinion reflects that of a purchaser but not necessarily the consumer.
That said, 10-year-olds are unlikely to buy their own game machines. They might have an allowance or earn money shoveling snow and mowing lawns, but when it comes to the majority of their purchases, Mom and Dad are in charge.
Parents who are used to (and don't mind) spending $40+ on games may not be persuaded by MG, especially if they know their kids prefer a particular platform. These parents may continue to buy Nintendo and Sony devices, regardless of the cost of games. (They may also buy MG as an additional platform, so everybody wins.)
The real danger comes from parents with smartphones who have shared their devices with their kids but would prefer for them to have their own. These people have seen first-hand what the Android market is like, how many options there are, and how many free games can be downloaded in a matter of minutes. If they can spend $169 today and save hundreds on games tomorrow, they may not think or care about the key differences between the MG and the Nintendo 3DS XL or PS Vita. They may simply look at the overall expense and assume that, since their kids already enjoy Android games, the MG is the perfect machine to buy.
As of this writing, the Kickstarter campaign (which only began this morning) has 28 backers and $2,914 in total pledges. Just as Oyua gained a ton of buzz for using social media to hype its release, MG may successfully do the same. Unlike Ouya, however, MG will be landing on store shelves very soon. Traditional game makers may not have a reason to be afraid today. Tomorrow may be a whole other story.
Follow me @LouisBedigianBZ
Posted-In: Nintendo PlayMG SonyTech Best of Benzinga
View Comments and Join the Discussion!