What is Microsoft's Motivation Behind Its Logo Change?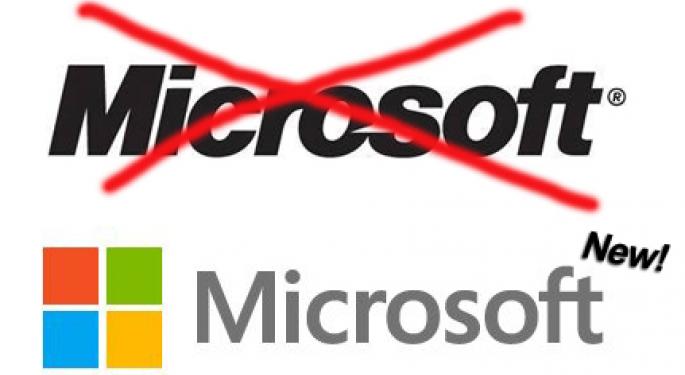 Microsoft (NASDAQ: MSFT) unveiled a brand-new logo today, the company's first in 25 years. The Windows maker claims that this was the "perfect time" to make the switch now that Windows 8 and Windows Phone 8 are about to be released. This sounds plausible, but is it the truth?
On Microsoft's official blog, Jeff Hansen, the company's General Manager of Brand Strategy, said that this is going to be an "incredibly exciting year for Microsoft" as the firm prepares to release new versions of nearly all its products.
"From Windows 8 to Windows Phone 8 to Xbox services to the next version of Office, you will see a common look and feel across these products providing a familiar and seamless experience on PCs, phones, tablets and TVs," he wrote. "This wave of new releases is not only a reimagining of our most popular products, but also represents a new era for Microsoft, so our logo should evolve to visually accentuate this new beginning."
Despite the hype for the new logo, Hansen said that the Microsoft brand is about "much more than logos or product names."
"We are lucky to play a role in the lives of more than a billion people every day," he added. "The ways people experience our products are our most important 'brand impressions.' That's why the new Microsoft logo takes its inspiration from our product design principles while drawing upon the heritage of our brand values, fonts and colors."
Hansen went on to explain that the logo has two components -- the logotype and the symbol.
"For the logotype, we are using the Segoe font which is the same font we use in our products as well as our marketing communications," he wrote. "The symbol is important in a world of digital motion (as demonstrated in the video above.) The symbol's squares of color are intended to express the company's diverse portfolio of products.
"Starting today, you'll see the new Microsoft logo being used prominently. It will be used on Microsoft.com – the 10th most visited website in the world. It is in three of our Microsoft retail stores today (Boston, Seattle's University Village and Bellevue, Wash.) and will shine brightly in all our stores over the next few months. It will sign off all of our television ads globally. And it will support our products across various forms of marketing."
That said, Hansen warned that it can take a while to implement a change of this magnitude, "so there may be other instances where you will see the old logo being used for some time."
"We're excited about the new logo, but more importantly about this new era in which we're reimagining how our products can help people and businesses throughout the world realize their full potential," Hansen concluded.
Words of Wisdom or Marketing Hyperbole?
This certainly sounds like a good story, but one has to wonder if there is another reason why Microsoft changed its logo.
Microsoft is one of the largest companies in the world. Its name, products, and various brands are some of the strongest around. With so much going for the company, why is now the "perfect" time to make a change?
The old logo featured a simple, distinct, and well-known design that people easily recognized. It may not have unified the brand, but it got the job done.
Now let's take a step back for a moment and examine the logo change of another major corporation.
When The Gap (NYSE: GPS) unveiled its new logo, it did so in an attempt to re-brand the ailing retailer. This attempt failed; customers complained and the company reverted back to its original design.
The key point here is that The Gap attempted to fix a logo that was not broken in an attempt to fix a corporation that has been broken for several years. This is the strategy that many corporations employ when they don't know what to do with the business.
Many critics would argue that Microsoft is not broken. This is true. Between the Windows OS, the Office suite of programs, and the Xbox 360 game console, Microsoft is a thriving player in technology.
However, the future is not set in stone. The company is getting ready to release a new operating system that is already being criticized for having a steep learning curve. Raluca Budiu, a user experience specialist from Nielsen Norman Group, told Laptop Magazine that Windows 8 provides a confusing experience to PC users that ultimately creates a "cognitive burden."
In July, VentureBeat quoted Gabe Newell, the co-founder and CEO of Valve (and a former Microsoft employee), as saying that he thinks Windows 8 will be a "catastrophe for everybody in the PC space."
"I think that we're going to lose some of the top-tier PC [original equipment manufacturers]," he said. "They'll exit the market. I think margins are going to be destroyed for a bunch of people."
But The Verge's David Pierce wholeheartedly disagrees. In his review of the new operating system, he said that he cannot wait to get his hands on a Windows 8 device, toss his MacBook Air out the window, "and finally start working with an OS that gets how we work in 2012."
In the end, that may very well be the real reason why Microsoft changed its logo -- to unify and rebrand its products to show that it understands how things work today, not five years ago.
Follow me @LouisBedigianBZ
Posted-In: Microsoft new logo Windows 8 Windows Phone 8Tech Best of Benzinga
View Comments and Join the Discussion!