This is what a $200 MacBook Pro Looks Like
Some might say it's a work of art. Others might say that it's the work of thugs at a nightclub.
In either case, there's no denying the originality of this MacBook Pro, which features a Core i5 2.4 GHz, 4GBs of RAM, and the unbelievable price tag of just $200: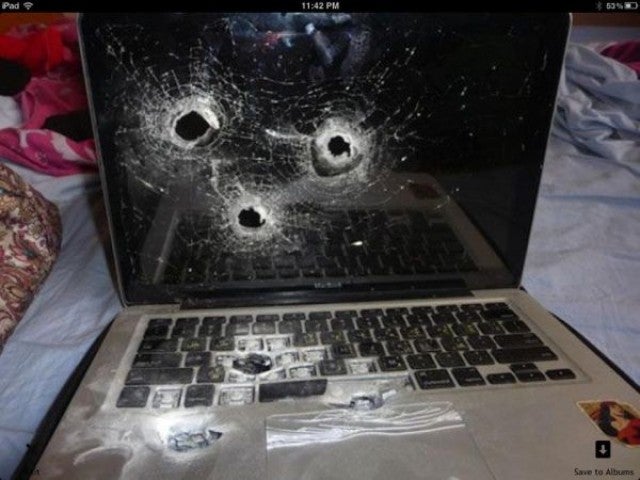 Image Source: Craigslist Ad
Yes, it does come with some added features -- mainly bullet holes. But while Cult of Mac's Killian Bell acknowledges the danger of buying a laptop of this caliber, he also said that he'd prefer to own it -- bullets and all -- over a Dell (NASDAQ: DELL). Having used a few Dells myself, I find it hard to disagree.
If you're wondering why this MacBook Pro looks like it got into a fight with some bank robbers and lost, that's because of an unfortunate incident that occurred while DJ Mike (the man selling the MacBook) was spinning at his home nightclub.
"A fight broke out and they started shooting," he wrote. "I hit the deck and when I came up my MacBook Pro got the worst of it. It was hit six times in the melee. So that's why I'm selling for a mere $200 (negotiable) or will even trade for a Dell or HP."
Wow, a Dell or an HP (NYSE: HPQ)? If he's willing to trade down, there is no way that MacBook still works.
But if it does, this seems like the perfect machine for fans of Take-Two's (NASDAQ: TTWO) Grand Theft Auto series.
Follow me @LouisBedigianBZ
Posted-In: Apple Craigslist Cult of Mac DELL Grand Theft Auto hewlett-packard HPTech Best of Benzinga
View Comments and Join the Discussion!