Multiplayer Reigns Supreme In Assassin's Creed: Brotherhood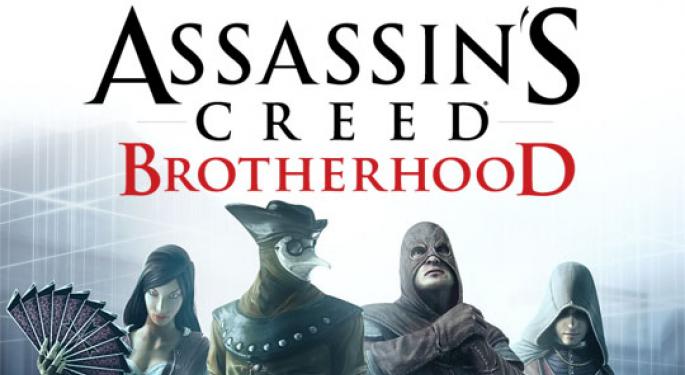 Next to Call of Duty, Assassin's Creed is easily the biggest franchise of the current generation. The latest chapter, Assassin's Creed: Brotherhood, has already sold several millions copies on the Xbox 360 alone. Add in PS3 sales and the game is booming.
Brotherhood differs from most sequels in that it came just 12 months after the release of the critically-acclaimed Assassin's Creed II. As a game released so quickly, you might not expect Brotherhood to include the same level of content as its cutting-edge predecessor. But in actuality, Brotherhood is an impressive extension of the last chapter in the franchise, expanding on the series' revered gameplay with riveting multiplayer content.
When you step into Brotherhood's online portal, you become both the hunter and the hunted – the assassin and the target. While this might sound like a no-brainer element for any Assassin's Creed game, it was by no means an easy feature to implement. Between Konami Corporation's (NYSE: KNM) Metal Gear Solid and a bunch of clones, stealth-combat hasn't evolved much in the online space.
Brotherhood is the first game to finally break the mold. Using a slightly modified version of the core (and in this case, single-player) combat system, players are tasked with the goal of killing their opponents or running from them like a ghost being chased by Pac-Man. The modification comes in the form of an instant-kill feature: to take down an opponent, all you have to do is press one button. This function works whether you're standing right next to your opponent or happen to be a few feet away, which means that close calls really aren't that close at all. If you don't keep a safe distance between your character and your assassin, you will be doomed.
Since this is a stealth-combat game, the goal is to stay well-hidden, regardless of your status. If you're the hunter, it's important to move cautiously; if you run, climb walls or walk along a rooftop, other players will instantly know that you are a real player and not an NPC (non-playable character).
Speaking of NPCs, there are several of them in Brotherhood. Just like the single-player campaign, players can use these computer-controlled characters to their advantage. When crowded together, NPCs make terrific shelter, especially if you're wearing a disguise. And if you're not, then consider the clothing and appearance of the character you're controlling; if there are others in the area, stand by them to avoid detection.
Of course, if it's a free-for-all bloodbath, you'd better not get too close to your opponents (which, thankfully, are clearly marked on-screen). In this scenario, everyone is given an opponent to eliminate. Thus, you will simultaneously hunt one player while trying to hide from another. It's an exciting dynamic that raises the fun and addictive level of the experience, even as repetition lingers in the background. Like it or not, this is a repetitive feature. Regardless, the multiplayer content is hard to put down.
View Comments and Join the Discussion!
Posted-In: Assassin's Creed Assassin's Creed II Assassin's Creed: Brotherhood Call of Duty Konami Metal Gear Solid UbisoftTech