Silicon Valley Trio Charges Electric Car Movement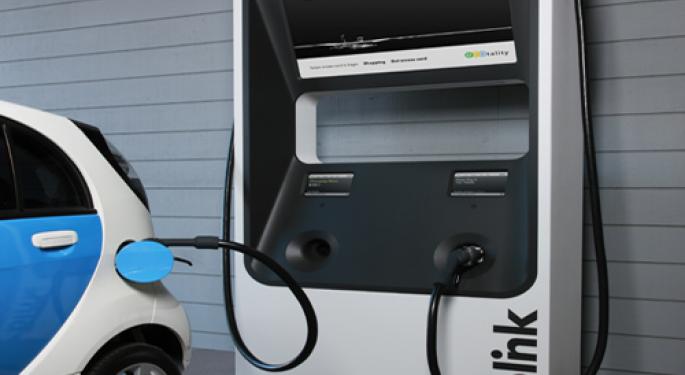 The stock of a small Silicon Valley Company that makes charging stations for electric cars has skyrocketed recently as automakers General Motors and Nissan are set to roll out the first large scale production of electric vehicles in U.S. history. ECOtality, Inc. (NASDAQ: ECTY), which administers an EV charging station pilot program subsidized by the U.S. Department of Energy, has seen its stock spike 46 percent in an eight-day period ending October 14.
The San Francisco firm recently unveiled a fast charger called Blink. The 480-volt EV charger can fully recharge a car in 15 to 28 minutes.
ECOtality chief executive Jonathan Read says the company will install the fast chargers at 12 western Best Buy stores, including Phoenix, Tucson, Los Angeles, San Diego and Seattle. If the program is successful, Best Buy will add other locations. The Blink chargers are being installed free of charge as part of the EV Project, a program funded by a $114.8 million federal stimulus grant.
The project will install 15,000 chargers, commercial and residential, in 16 cities and metro areas at no cost, in both public and private locations. The majority of the chargers will be located along Interstate 5, between Vancouver, Canada, and the Mexican border.
Read also triumphantly announced recently that his company negoiated an agreement to install chargers at 45 BP and Arco gas stations. The sites are closely linked to the select locations where the Nissan Leaf will initially be sold. Those locations include Tennessee, where an assembly plant is being built, California and three other western states. The No. 3 Japanese carmaker hopes its new electric car will challenge the reign of Toyota's Motor Corporation's (NYSE: TM) popular Prius.
"This is the first time Big Oil has invited electric vehicles to the table," noted Read.
Coulomb Technologies of Campbell, California makes the chargers used in the ChargePoint America program, a $37 million project funded by the Department of Energy. ChargePoint, whose partners include Ford Motor Co. (NYSE: F) and GM, installs EV chargers in nine regions across the country. About one-third of the deployments will be in California.
Better Place is an established leader in the EV movement. General Electric Co. (NYSE: GE), a newcomer to the charging station market, decided to partner with the Palo Alto, California startup. GE's relatively new designer charger, WattStation, will augment the battery-swapping service offered by Better Place.
Better Place also has a partnership with the French automaker Renault and is promoting the sale of 100,000 of their electric Fluence cars with switchable batteries in Israel, and later in Denmark. In this unique model, Renault sells the vehicles, while Better Place leases the battery packs. GE and Better Place will launch a pilot program to finance 10,000 of these battery packs. The two will also build stations for corporate and municipal EV fleets.
The battery switching service is restricted to changing out batteries specially adapted for swapping in the Better Place network. Some existing Better Place locations also include charging stations.
Barry Bazzell is a Benzinga contributor who focuses on Bay Area technology stocks. He blogs about tech companies and startups at Silicon Valley Blog.
Posted-In: Tech
View Comments and Join the Discussion!