The 12 Days Of Home Buying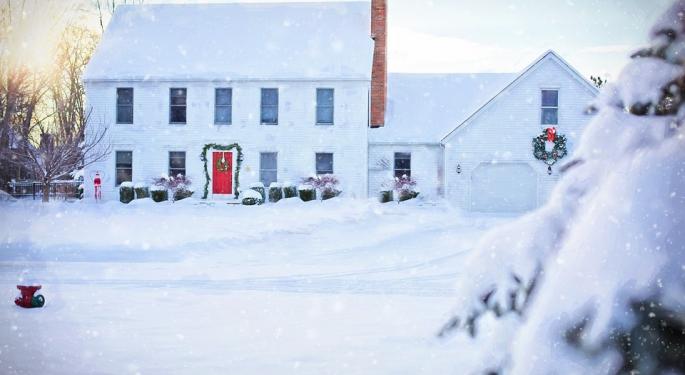 The following article originally appeared on Unison.
Welcome to the "12 Days of Home Buying"! Our goal is to provide the best advice for people purchasing a home, so we're sharing 12 of our top tips for home buyers below… Keep reading!
Day 1: How to get your finances in shape to buy a home
Like sipping eggnog and singing carols, buying a home can be really fun -- but it's also serious business. Before buying a home, you need to double check to make sure your finances are in good condition. That means you should have a steady income, not too much debt, and a solid history of debt repayment. In order to get a mortgage, you will need to provide documents that show evidence of your healthy finances, including your tax returns, pay stubs, account statements, etc.
Lenders will also look at your credit score and credit report to evaluate how much risk will be involved with giving you a loan. So get a sneak preview! You should always look at your own credit information before you dive into the home buying process. These blog posts will help you get started:
Day 2: How to get started with your home search
The New Year is around the corner. Do you want to buy a home in 2018? If so, the first step is getting your finances in shape. Then you need to figure out exactly how much you can afford. There are plenty of mortgage calculators online that will tell you how much your monthly payment will be. Run the numbers and be honest with yourself. Don't stretch your budget too thin!
Once you have a good idea of your home-buying budget, then you can start narrowing down the neighborhoods you want to look at. That would be a perfect time to go find an all-star real estate agent! Your agent can guide you through the whole process (that's their job), so don't try to do it all alone. They'll help you learn what to look for when viewing each home. Check out these blog posts to jumpstart your home search:
Day 3: How to get the right financing for your home
During the holidays, finances sometimes take a back seat. But not when buying a home! While it's a lot of fun to begin your search for the perfect home, you've got to be prepared to finance your home purchase. When you choose a real estate agent, they are going to ask if you have been pre-approved for a mortgage. You'll need to select a lender (or multiple lenders) and apply for a pre-approval. This can happen pretty quickly and will give you the ability to make an offer on a home you like.
Eventually, you'll find your ideal home -- hooray! At that point, you need to submit your mortgage application and go through the process of officially being approved for the loan. This will require a lot of paperwork and can be a stressful time. Understanding your loan options before signing on the dotted line is very important. Here are a few articles that explain the entire process from beginning to end:
Day 4: Understand PMI and whether it's right for you
Buying a home? It's important to get the financing right. For example, private mortgage insurance (PMI) is usually required when you don't have 20% for the down payment on the home. It protects your lender in case you default on the loan. However, it can cost up to several hundred dollars per month and it doesn't provide you any benefits. That sounds worse than a lump of coal in your stocking!
See how a home ownership investment can double your down payment.
What if you want to avoid paying PMI? Well, that's not a bad idea. But you'll need to carefully examine your options. There are low down payment mortgages, piggyback loans, and of course Unison HomeBuyer, and these can allow you to escape PMI payments. Just do your research first! Here are a few articles to explain your options:
Day 5: Tips for first-time home-buyers
As you sip hot cocoa by the fire, are visions of a new home dancing in your head? If so, you're probably excited and also a little scared. While buying a home for the first time can be a little scary, it doesn't have to be. Millions of people every year go through the process, and if you give yourself the right information then you'll get it done -- no sweat! Obtaining the right resources and finding qualified people to assist you makes all the difference.
It's very important to find a good real estate agent, someone who knows your local housing market and has plenty of experience. That person will be able to show you what you need to look for in terms and help you steer clear of pitfalls. They'll be your guide on the path to homeownership. But you should have your own map too. The articles and guides below will help you understand the entire process:
Day 6: Online home buying tools you can use (and what you should know about them)
Even Santa can't deliver presents without a little help. Whether you're a first-time home buyer or a move-up buyer, these days you have plenty of tools waiting to assist in your home search. There are websites for finding homes, websites for finding a mortgage, websites for calculating how much you can afford, and even websites for finding a real estate agent.
If you're thinking about buying a home, you should definitely make use of the following tools when conducting your home search:
Day 7: Understand the housing market trends in the U.S. And your market
Holiday cheer increased 50% this week! That's a good thing. When you're buying a home, though, it's not always so clear what kind of trends are taking place in the housing market -- even with great tools at your fingertips. We recently put together a report that helps people understand the trends currently shaping the market so you can make a more informed decision.
We hope this report will help you get a clearer picture of where the housing market is and where it's going. Feel free to ask us questions on anything you see here:
Day 8: What you should know if you're buying a home while paying off student loans
For college students, the holidays are time for traveling home to be with family and friends. But for those who've graduated and are in the middle of paying back student loans, it can be tricky to navigate the home-buying process.
Learn how a home ownership investment makes it easier to buy a home.
We recently published a blog post discussing the "ins and outs" of buying a home when you have student loan debt. The post explains how student loans affect your debt-to-income ratio and gives you tips for saving up for a down payment and getting approved for a mortgage.
Day 9: Consider using the Unison HomeBuyer program
Happy Holidays from all of us here at Unison! Did you know that our Unison HomeBuyer program can double your down payment, which gives you up to 20% more purchasing power to buy a home? It also means you only need half the time to save up for a down payment.
You don't have to ask Santa for help with the down payment. You can partner with Unison instead. And this deal is available all year round. Check out our Unison Reviews or better yet, read a few stories from Unison customers about how this program made a difference for them:
Day 10: What to do when you find the perfect home
The holidays are a nice time to think about the previous year and consider your goals for the coming year. If your goals include finding the perfect new home, then you'll want to know what to do when you find it.
When you tell your real estate agent "That's the one!" he or she will help you make an offer on the home. However, it's not always simple. You'll have to decide whether to offer the asking price or something above or below it. If your offer is not accepted, you may have a chance to negotiate. If your offer is accepted, you'll go into escrow and you'll likely need to hire a home inspector. Here are a few articles to help you successfully navigate this stage of the process:
Day 11: Make it through the closing process
At this time of year, many Americans are celebrating Hanukkah, eating latkes, lighting the menorah, and gathering with friends and family. But the joy of the holiday depends on the preparation that goes into it. It's the same thing when buying a home. That moment of becoming a homeowner is delightful, but first you need to complete the closing process. You should be prepared for all of the closing costs that occur when buying a home. After all, you wouldn't want to get this far into the process and realize that you're short on cash.
The most important thing is to know what costs you'll need to pay and have a plan for paying them. This article explains what you need to know:
How Much are Closing Costs When Buying a Home?
Day 12: Be a good homeowner
On this "12th Day of Home Buying" we can talk about what happens after you finally move into your new home. You'll feel a great sense of pride and satisfaction -- and you will have earned it. Of course, the home might still have things that need fixing, including any problems that were uncovered in the home inspection that were not resolved as part of your negotiations with the seller.
It's always a good idea to keep track of the home repairs that might be needed throughout the year so you can make sure your new home stays in tip top shape. This is also a good time to review your finances and prepare for any changes to your taxes as a result of becoming a homeowner. Keep these resources handy to be a successful homeowner:
The preceding article is from one of our external contributors. It does not represent the opinion of Benzinga and has not been edited.
Posted-In: Christmas unisonSuccess Stories Personal Finance General Real Estate
View Comments and Join the Discussion!