Resurgent Detroit: 5 Reasons To Invest In The Motor City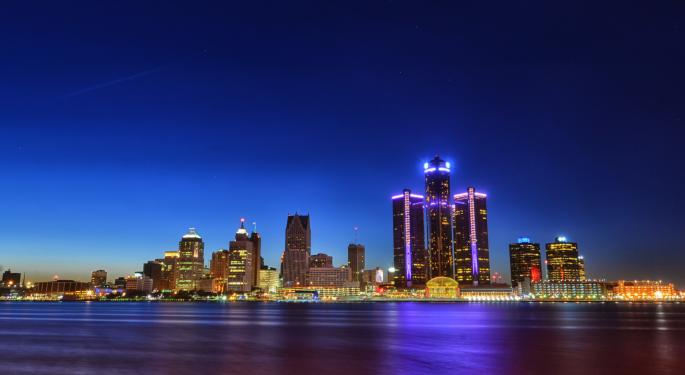 Benzinga will be moving its headquarters to the heart of Detroit in just a few short weeks, so this will be the last of our monthly series highlighting establishments and exciting things going on in our new home. To read another cool piece in the series about Detroit being green, click here.
Two weeks ago, Crain's Detroit Business hosted the second annual Detroit Homecoming event. Last year's event drew in more than 160 Detroit "expats" to return home and see how the city has changed throughout the years.
This year's event brought even more expats, with the goal of encouraging them to invest financially, philanthropically or even just emotionally in the city.
We're moving our company to a new office space in downtown Detroit because we're making a long-term investment in the city. Here are five reasons from the event that everyone should consider investing in Detroit:
Join A Comeback State
Michigan Gov. Rick Snyder spoke first to the expats, explaining that the Michigan unemployment rate in December of 2010 was 11.2 percent, with the state ranked 49th in the country.
Today, the Michigan unemployment rate is 5.1 percent, and the state is now ranked 24th in the nation.
"There are more than 103,000 open jobs in Michigan today," he said. "There's a bright future, and it's just up to us to do it."
To top it off? Snyder said Detroit is the greatest sports city in the country.
Reach Critical Mass
Pandora Founder Tim Westergren explained how locating his headquarters outside of Silicon Valley in Oakland, California, really changed that community.
"We saw around us the impact of the community on our business being there," Westergren said. "We saw coffee shops and restaurants and clubs all start to pop up when we reached some critical mass."
Westergren added that the good stuff doesn't come easy, but those who have a really good idea, focus, passion and some authenticity can make it through difficult times.
"I think Detroit has that something," he said.
Everybody Loves An Underdog
Under Armour CEO Kevin Plank told the audience that he couldn't quite explain why Baltimore was chosen for the company's headquarters -- other than that something pulled him there.
Being in a city like Baltimore -- instead of somewhere like New York or Chicago -- gives you focus, he said. Plank also noted the similarities between Baltimore and Detroit, saying they both have branding issues.
"To be honest, it's incredibly exciting to see other people out there doing the same things we did in Baltimore," Plank said.
Plank admitted he's interested in investing in Detroit, too.
"What you're building here is incredibly powerful," he said. "We had our real estate team out here last week looking at places."
The City Defines Culture
Plank went on to say that being in a city like Baltimore helped establish some of those elements that define Under Armour's culture.
"Winning is a habit, and so is losing," Plank said about the company's culture.
He emphasized building enduring organizations that do good things for the community.
"I think a great company doesn't wait to hang on the word of the CEO," Plank continued.
He also said that in Baltimore, Under Armour got the opportunity to create a culture of empowerment of really smart people who are willing to do great things.
Urban Centers Have Benefits
It's hard to compete with the benefits of urban centers, from transportation to culture, Plank said.
Groupon Co-Founder Brad Keywell also spoke at the event. He said startups need a density of people, universities and talent.
Cities inherently come with energy, which Keywell said is part of why he thinks there's such a unique opportunity with Detroit.
"Hopefully the emerging culture of Detroit is: We are going to try," Keywell said.
I can assure you, Brad Keywell, we are going to try.
Posted-In: brad keywell Crain's Detroit Business Detroit Homecoming GrouponSuccess Stories Startups Small Business Interview Best of Benzinga
View Comments and Join the Discussion!