3 Ways Detroit-Based Fathead Rocks At Fantastic Company Culture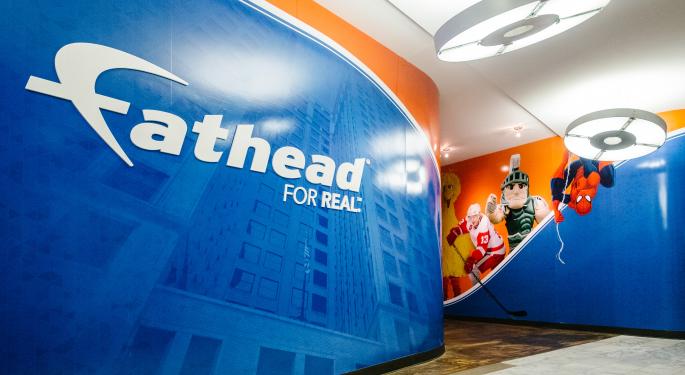 It's hard to visit a building in downtown Detroit without noticing them: sometimes tall, usually colorful, but always recognizable. That's because Fathead more than likely has something to do with their look.
That's right, Fathead graphics.
For those who haven't seen them, Fathead graphics are wall decals of sports stars, pop culture icons and others made by their namesake, Detroit-based Fathead.
Fathead, who is part of the Quicken Loans family of companies, is a $50-million company that has grown 340 percent since its inception in 2006.
Related Link: Watch: How Usher Surprised Quicken Loans Employees With The Surprise Of A Lifetime
Fathead CEO Patrick McInnis said that one of the main catalysts for the company's success is the culture. The Detroit Free Press agrees. It voted Fathead as one of the best places to work four years in a row.
McInnis was kind enough to answer a couple of questions for Benzinga on just what makes Fathead such a great culmination of culture and success.
Define What's Important
The Quicken Loans family of companies doesn't just have a defined set of core values; they have ISMs: ways of living, working and playing that define who the employees are.
"Innovation, creativity, communication and teamwork are all things that characterize the culture at Fathead," McInnis said.
"Transparency is key. We have a daily huddle every morning with all team members to discuss where we stand as a company," he said. "Team members need to know what's going on with the company and how they can make an impact each day."
It's not enough to just say what the company wants to be. Patrick said that Fathead lives its ideals daily.
"You have to have a culture where ideas and innovation are a top priority, and this environment has to be fostered by walking the talk," he said.
Related Link: 3 Must-Read Startup Tips From The CEO Of Fathead
Execution Is Worshipped
Instead of just letting those ideals become merely words on a piece of paper, Fathead team members live them. McInnis said his favorite ISM is "Innovation is rewarded. Execution is worshipped," and he gave a few examples of how the Fathead team has really embodied this ISM.
When memorable moments happen, like Derek Jeter's final home game of his career, McInnis explained that Fathead's crew works quickly to get a commemorative mural of the moment on the website within 24 hours.
In the case of Jeter's farewell game, they came up with a unforgettable Fathead wall decal of the baseball champion tipping his cap to the crowd as he exited the field.
"We have it down to a science," McInnis said. "Acting fast is a part of Fathead's DNA now."
This relates directly to his favorite ISM. While prioritizing which ideas will have the biggest impact for the company is important, McInnis said the ability to stick with them and overcoming challenges to execute is equally important.
Build Ideals Into The Foundation
Literally. The Fathead office is built in a way that not only fosters the culture, but also encourages creative, unabridged thinking.
"We do not have walls in between our desks so teams are able to talk and collaborate openly," McInnis said.
He explained that he invites easy communication, immediate creativity, idea-sharing and energy, which creates even more energy. The walls that the office does have are dry erase, McInnis said, so people can share and see each other's ideas.
Like many successful companies, Fathead eats its own dog food. Fathead products are everywhere in the office, and McInnis said the Fathead custom installations team created a unique design for the office layout so that entrants know immediately they're in the Fathead headquarters. A shark decal adorns an elevator entrance so that its mouth is the doorway, giving riders the illusion they're walking straight into its jaws.
McInnis said every team member even has his or her own Big Head of their face at their desk instead of a regular name plate. In addition to the Fathead decorations, the office is full of bright colors that inspire an upbeat mood, he said, which is good for the psyche.
"If you are going to have a great culture that's about innovation, creativity and communication, your office has to be conducive to that," he said.
Our kitchen refrigerators have gone retro for #TBT. Which design is your favorite? pic.twitter.com/Md9SpiCFO9

— Fathead (@Fathead) October 23, 2014
View Comments and Join the Discussion!
Posted-In: culture Detroit Fathead innovation Pat McInnisSuccess Stories Interview General Best of Benzinga