Facebook Knows What's Up With WhatsApp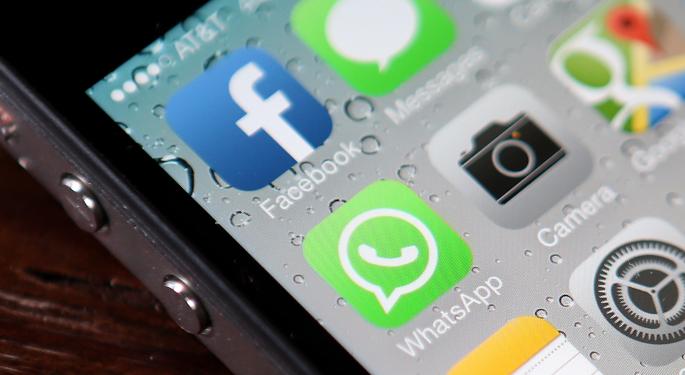 The cat is out of the bag. Or should we say, "the Whatsapp is out of the bag?"
Facebook (NASDAQ: FB) unleashed a bombshell Wednesday evening, announcing it will purchase WhatsApp in a deal totaling $19 billion in cash, stock and units.
Facebook holders and tech heads are struggling to wrap their heads around the massive deal. Skepticism about the ticket price paid by the company seemed apparent in Facebook shares during Wednesday's after-hours trading session. The stock plunged nearly $4 immediately after the news hit wires, but has since rebounded modestly.
While some on Main Street are saying, "WhatsApp? What's WhatsApp?" loyal WhatsApp users are fretting, "but what about my wonderful service?!"
See also: Did Facebook Overpay For WhatsApp?
WhatsApp CEO Jan Koum -- a man who will certainly be getting a healthy dose of media attention very soon -- calmly took to the WhatsApp blog, "Here's what will change for you, our users: nothing."
Rejoice!
As one of those devoted WhatsApp users, this user was glad to see an immediate comment about the consistency of this great app. And voicing this relief to colleagues and friends, several asked, "What's so great about WhatsApp?"
Consider the following features which have been favorable over the course of a life-changing two-year relationship.
Instant global chat - The speed at which WhatsApp delivers messages to connections around the entire globe is unmatched, giving new meaning to instant chat. And as an app, a mobile phone plan is not required; users can chat away on tablets for an annual payment of just $0.99.
Runs on multiple platforms - iPhone and Android users can now finally be friends!
Location service allows for "pin drops" - Meeting some friends for coffee but can't find the beanery? Just ask one of them to drop a pin, marking their current location on Apple or Google's map apps.
Easy switching between multiple organized chats - Title and picture-ize different group chats, allowing for easy rotating between conversations. Sometimes users find themselves in multiple group chats having different conversations with the same person.
Quick picture upload with a database for all the pictures in a chat - WhatsApp's ability to gather all the photos posted within a given chat is really the huge bonus here. This feature essentially creates a history of media in one thumbnail-styled selection screen.
Calling WhatsApp "life changing" might seem a little overzealous, but it's true! The speed, community, and utility which are afforded through WhatsApp has created many exciting and funny moments for the growing group of friends and family that have been converted over the last year or so...
You could say consumers are starting to get what's up with WhatsApp. With an offer which has WhatsApp's valuation approaching those among the top 200 S&P 500 companies, Facebook must also be getting what's up at WhatsApp.
Posted-In: Jan Koum WhatsAppSuccess Stories Tech Reviews Best of Benzinga
View Comments and Join the Discussion!