EXCLUSIVE: Shinola CEO Heath Carr Talks Watches And The Accessory Industry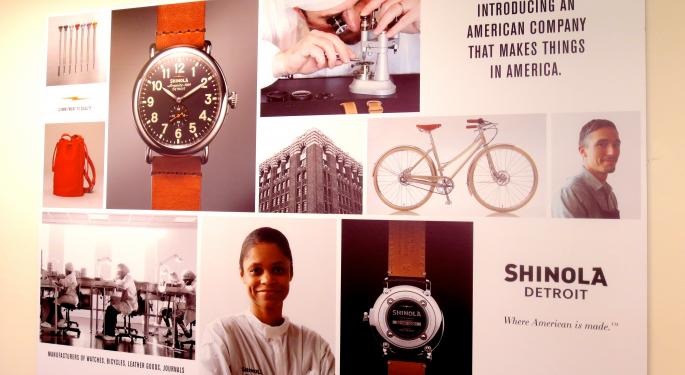 Read why Detroit made sense for Shinola's manufacturing here and the effect of Detroit's bankruptcy here.
In an exclusive interview with Benzinga, Shinola CEO Heath Carr described the current state of the accessory industry.
"We knew going into the watch business and making watches in the United States would be disruptive," Carr started. "Watches are made in Switzerland, or in Asia or around the world. So, making a watch in the US would be disruptive, so we had to come up with a disruptive business model."
All of the company's watches, bicycles, leather goods and journals are produced in Detroit. Watches, Shinola's primary product, range from $475 to $725; there is currently a backlog of 60,000 watches, the company's primary goal is boosting its production capacity to 1,200,000 a year.
Carr described ecommerce as the easiest distribution platform and expects high end stores to be critical for sales. "The plan is to expand in September to a little over 200 stores across the US. These would include Nieman Marcus, Bloomingdale's, Stephen Alan, you know stores like that."
Regarding construction, Carr stated: "Not every part was made in the United States. It's not possible to do that. We are investing in bringing more parts into the United States and making them a part of Shinola."
"Made-in-America is a reality and it's something that's really exciting to be a part of. I encourage people to check out our store and our website and I think we have been as transparent as you can be with our story, our product, where everything's coming from."
View Comments and Join the Discussion!
Posted-In: Detroit Heath Carr ShinolaSuccess Stories Startups Interview General Best of Benzinga