How to Make 9% Shorting a Booming Stock like Tesla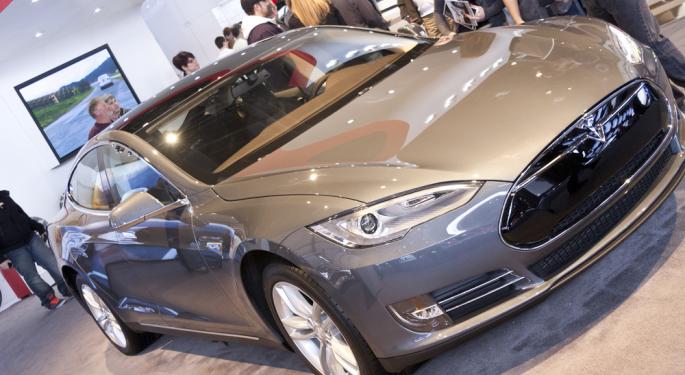 Maybe the most common phrase uttered from the lips of unconfident traders is "I should have bought that stock". If you believed that the only way to make serious money on Tesla (Nasdaq: TSLA) was to buy it a week ago you are sorely mistaken.
Since May 8th Tesla (Nasdaq: TSLA) has been the hottest stock on the market, skyrocketing in price day after day. For the uninitiated, trading big name stocks can be daunting, but something as promising as a Tesla (Nasdaq: TSLA) dropping down over 10$ off of its $94 open is not an opportunity that should be wasted. To help the average retail trader capitalize on opportunities like this is the reason Benzinga, the idea trading network, founded its new platform Marketfy, the marketplace for the greatest trading products on the web.
Serge Berger, one of the mavens on Marketfy, made 9.12% trading Tesla (Nasdaq: TSLA) today. Serge has been tracking Tesla's growth and noted the gap in price closings and openings for the last few days. Serge is fond of viewing the stock market as part of the natural world, emphasizing that it is governed by the laws of physics. Just as Apple (Nasdaq: APPL) and Gold before it, when Tesla (Nasdaq: TSLA) began going vertical it was time to look for the opportune moment to make a trade. It does not take an expert to say that a stock going up in price will eventually be subject to a drop, but it does take an expert to perfectly isolate the moment to strike.
Marketfy.com was built to make you an expert while simultaneously allowing you to trade with the experts. On Marketfy Serge is known as The Steady Trader. Through both his trade alerts product and his education product you would have been able to not only make the same epically successful trade as Serge but learn the exact strategy he utilizes to capitalize on these big news events. In this instance Serge utilized the gap in opening and closing prices to his advantage.
Noting the steep slope in Tesla's (Nasdaq: TSLA) price Serge viewed the 8% increase in open price from yesterdays close increase to 11.5%. After the first 5 minutes this advantage was down to 6%. Serge saw the price drop 5.5% from the peak morning price and after continuing to slide for thirty minutes Serge took the opportunity to pounce and short the stock. Selecting his bottom near yesterday's price (~84.5) Serge made a cool 9.12%.
Tesla (Nasdaq: TSLA) doesn't need to completely fall apart to present you with profitable situations. Capitalizing on a volatile stock that is under the spotlight of the news and the greater trading community is not a move a sheepish trader can pull off. Tracking violent reversals is just a single move in Serge's trading arsenal. Whether your goal is to create passive income, get into trading, improve your trading, or just be guided by an expert trader Marketfy.com is your premier location for expert strategies, trades, and resources.
The preceding article is from one of our external contributors. It does not represent the opinion of Benzinga and has not been edited.
Posted in: Success Stories Tech Trading Ideas Reviews Best of Benzinga