This App Could Save Your Credit Score and Help You Earn Cash Back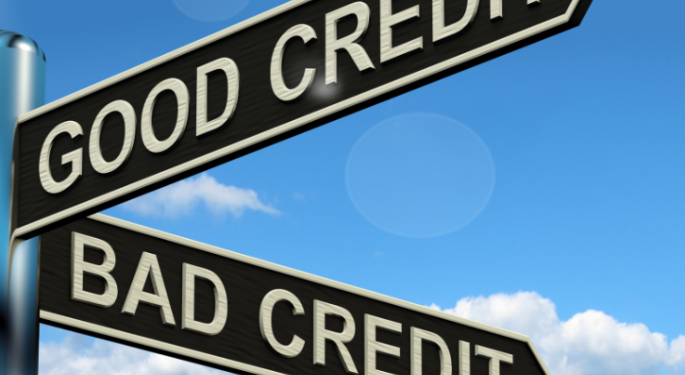 Incentives have become a big part of the credit card industry. Aside from the elimination of annual fees, many companies are offering credit cards with special rewards programs that allow customers to earn cash back on their purchases.
What many customers don't realize, however, is that they could earn more cash rewards if they knew when and where to use their credit cards.
"We downloaded all of our transactions for the year, and what we found is that if we had used any one card…[we] would have earned probably $1,000 to $1,400 in rewards from that individual card," Mike Vichich, co-founder of Glyph, told Benzinga.
"But if you had the right portfolio of somewhere between three and four cards, you can really pick that up and get into the $3,000 range. So you can triple the amount of money at you earn in rewards, you just have to know which cards to have and when to use them."
Vichich, who founded Glyph with Tyler Felous, discovered that the average American misses out on $600 in credit card rewards every year.
"That was kind of the initial inception of Glyph," said Vichich. "We raised a round of money in April of last year, and since then we've been cranking. We've been building our team and building our product and we launched version 1.0 of the app in the App Store in November."
The company's Web-based app launched at PayWithGlyph.com last month.
"The objective is not to sell you more credit cards, to be explicitly clear," Vichich insisted. "The objective is to help consumers make better financial decisions. That's a choice that every individual has to make on their own. We just want to provide people with the information."
Glyph partnered with Yodlee to help analyze data for the Web app, which "has the ability to pull in your actual historical banking transaction data," Vichich said.
"Then we can run them through our model and tell you the exact dollar amount and rewards you're missing out on by having the wrong cards in your wallet," he added. "That's the objective: help people build the perfect credit card portfolio for them and second, help them figure out which part to use on each purchase."
Users are not required to share their personal information, however.
"You don't have to [provide personal data], and you can still get value from Glyph," Vichich explained. "I would argue that it's not as much as if you give us data, because we can personalize things very directly for you as an individual.
"On the Web app, if you don't want to link your account, we've got canned profiles that are kind of personas by life stage. We've got a college graduate, a young professional, a family and an empty nester. Those are profiles that are standard, because generally speaking college grads have roughly the same type of spend.
"On the mobile app, when you first sign up, you don't have to give us any credit card information. And if you don't want to, you never have to."
However, Vichich said that it is advantageous to provide that info.
"One of the reasons why you might want to link in that case would be to improve your credit score," he said. "We show you the current balance and the utilization on each card that's in your wallet before you go buy something. You can then make a smarter choice, because most people don't realize that if you have greater than 30 percent of your credit utilized at any one time, that can actually hurt your credit score."
Vichich used Chase Freedom (NYSE: JPM) as an example.
"To illustrate, let's say you've got a $10,000 credit line and you've been going to $5,000," he explained. "[That's] 50 percent of $10,000. What's happening is that you are actually hurting your credit score by having your utilization continuously go over that 30 percent threshold.
"What we would recommend is calling up Chase and asking them to increase your credit line to $15,000 so that if you continue to spend $5,000, your credit line is $15,000, and therefore you're not going to get dinged from the utilization perspective and you don't have to change anything about your behavior."
Looking ahead, Vichich said that Glyph doesn't have plans to go to BlackBerry (NASDAQ: BBRY) in the near future. "We do have plans to go to Android, but that's a few months out," he said.
"The future, where we see this headed, people are going to be paying for stuff using their phone. And whether that's through NFC or through an Internet connection like Square is doing, it's too early to tell. And we actually don't care which medium wins out. There could be multiple that emerge, so we are agnostic of that."
Vichich estimates that Visa (NYSE: V), MasterCard (NYSE: MA), Discover (NYSE: DFS), American Express (NYSE: AXP) may open up their pay-by-phone services to third-party apps.
"That's one scenario where Glyph, in the future, could be helping consumers pick the perfect card every single time and actually be consumer-facing in executing the payment," said Vichich.
Follow me @LouisBedigianBZ
Posted-In: Glyph Mike Vichich Tyler FelousSuccess Stories Startups Tech Best of Benzinga
View Comments and Join the Discussion!