From Facebook to Textbooks, CourseSmart Brings Learning to Social Media
You visit Facebook to Like, share and play, but where do you go to learn?
In the olden days (you know, waaaay back in 2002), students had to actually get off their butts, pick up a physical book, walk to a physical classroom, and learn from a real-life teacher. That seems primitive now that digital books and virtual classrooms have become so common. While online learning has existed for more than 15 years, it wasn't until now that technology finally caught up to the needs of everyday students.
Recognizing the importance of social networks, CourseSmart is attempting to bridge the gap between social media and education by bringing its eTextbooks to Facebook.
"Our primary goal is to make sure our digital course materials are available on the devices and platforms that students and faculty prefer and can be utilized in ways that are relevant for the education space," Jill Ambrose, Chief Marketing Officer of CourseSmart, told Benzinga this week. "Social media platforms are increasingly popular with college students and in August 2011, we launched the industry's first-ever social commerce shopping experience for college students on Facebook to ensure that they can access course materials more seamlessly in the environments where they are already active."
As a result, students can now access CourseSmart's catalog of eTextbooks directly from Facebook "via a secure shopping cart and through a tab on the CourseSmart brand page."
"Students can search by title, ISBN or keyword for the digital materials they need for class, add [them] to their cart, and continue shopping until [they are] ready for purchase, at which point they are automatically linked to a secure checkout at CourseSmart.com," Ambrose explained.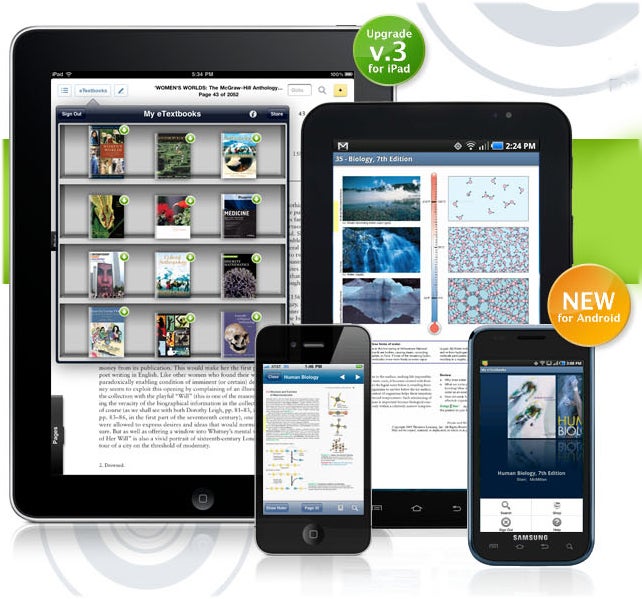 Digital Advancements
CourseSmart was founded by "several publishers in higher education," including Pearson (NYSE: PSO), Cengage Learning, McGraw-Hill Education (NYSE: MHP), John Wiley & Sons (NYSE: JW-A), and the Bedford, Freeman & Worth Publishing Group from Macmillan.
"The company has since grown to represent more than 30 publishing partners," said Ambrose. "Currently, CourseSmart has nearly 2.5 million student and faculty users across North America and these numbers continue to increase on a daily basis."
Ambrose added that CourseSmart has the world's largest selection of eTextbooks and "other digital course materials, including eResources."
"Our catalog continues to grow everyday and currently includes more than 20,000 eTextbooks, which represents 90% of all core higher education textbooks in use today," she said. "Students who buy from CourseSmart are able to access their materials instantly, unlike other online retailers who may have to ship an access code to a student."
Further, students get a head start in their class "by getting access immediately."
"CourseSmart also offers a free trial as well as a money back guarantee," said Ambrose. "CourseSmart is the only company that has a browser-based accessible site, which includes both the purchase and reading experiences. Eighty percent of CourseSmart's best-selling content has also been optimized to be fully accessible for students and instructors with print-related disabilities."
Online vs. Traditional Textbooks
While many consumers are content to get their music and movies online, some students are still apprehensive about the idea of leaving physical books behind. But Ambrose says that there are several reasons for coming aboard the digital age.
"The first reason is cost savings," said Ambrose. "CourseSmart provides up to 60% guaranteed up-front savings as compared to purchasing a new print textbook. Our eTextbooks also mirror the experience of the print version of the textbook through page fidelity, ensuring students are literally on the same page as instructors and classmates that may be using print alternatives."
Ambrose says that digital textbooks are also flexible. "Students can access their eTextbooks anytime, anywhere from any Internet-connected computer or Web-enabled device, and through CourseSmart's dedicated iOS or Android apps," she said. "CourseSmart's eTextbooks provide the same features whether users are online or offline, including the ability to highlight, search, copy, paste, annotate, share and print. Furthermore, digital textbooks reduce the impact that print textbooks have on the environment."
Lastly, Ambrose spoke about something most students never think of when lugging their books from classroom to classroom: their health. "There are also health benefits [to using digital books], as hauling around heavy print textbooks can often lead to back-related injuries," said Ambrose. "Students using CourseSmart enjoy access to their course materials from their laptop, tablet or mobile device, substantially reducing the weight of their backpacks."
Apps and Offline Reading
When asked about the various versions of the CourseSmart app (and why the iPad version is the only one that offers offline reading), Ambrose said that it was all about user requests.
"Our iPad users have been requesting the offline reading feature and we have spent more time in developing the iPad app, so it seemed appropriate to test it with our iPad audience first," she explained. "As we see demand increase for the Android market, we will likely build out and add this feature. Based on our current statistics, most of the Android visitors to CourseSmart are mobile devices. As soon as more Android tablets are being used in education, I am confident there will be a need for offline reading there as well."
Follow me @LouisBedigian
Posted-In: Android Apple CourseSmart Google iPad iPhoneSuccess Stories Tech Best of Benzinga
View Comments and Join the Discussion!