MeditationWorks Aims To Lower Your Stress Level At Work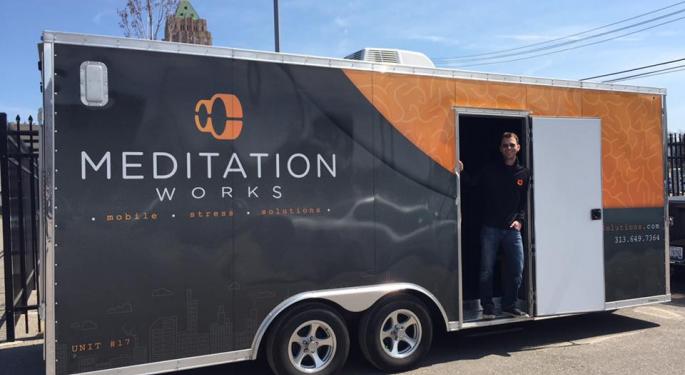 Benzinga recently had the chance to speak with MeditationWorks founder Jake Leider about the goals he has for his new company, how the idea for MeditationWorks evolved and the type of impact the team has made in its first few months together.
MeditationWorks is the first and only mobile stress solutions company. The company provides Detroit-area professionals with on-site, 10-minute mindfulness training sessions in its rolling relaxation room.
According to Leider, the idea for MeditationWorks started with what he witnessed at his previous job with a construction company.
"In my company I was working at, the 30-year-olds looked like they were 40," said Leider. "The 40-year-olds looked like they were 50. Everybody was kind of miserable. I really wanted to help people because as I was starting to get into meditation, I started to see the benefits, and I thought more people need to do this."
Leider noticed that workers often prefer to take breaks outside of their office buildings, even if there is a designated break area inside.
"It's a Facebook break without the stress. It's a cigarette break without a cigarette," Leider told Benzinga.
In addition to providing quick, convenient mindfulness sessions with Yoga Teacher Justin Barnes, Leider hired his mother, Joanne Leider, as Medical Director and Educational Program Director. Joanne, who is a registered nurse, provides MeditationWorks customers with easy tips for reducing stress inside and outside the workplace. She told Benzinga that the tips have been well-received so far.
"People not only look forward to the tips and use them and put them into their lives, but they actually bring them home to their spouses, they hand them off to relatives, so it's been really popular," she explained.
Leider said one of the keys to lowering stress in the long run is consistency, and MeditationWorks' mobile app helps customers schedule and stick to appointments.
For more information about the services MeditationWorks provides, visit the company's website here.
Posted-In: Detroit Jake Leider MeditationWorksStartups Exclusives Tech Interview Best of Benzinga
View Comments and Join the Discussion!