Wall Street Veterans Create The 'FarmVille' And 'Hay Day' Of Stock Trading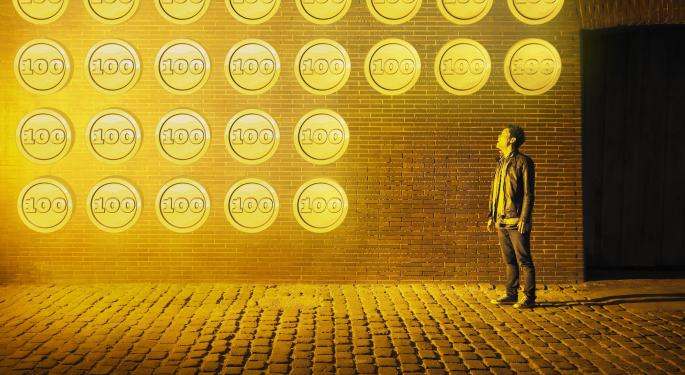 Harry Temkin and Stephen Kalayjian have spent years working in the financial sector, but it wasn't until the two started working together that they realized they might have a future in game design.
"Steve had always thought about doing a game," Temkin told Benzinga. "But, being who we are, we never thought we'd actually do it. Then one day we came across a game designer. We were talking about what we do and realized, wow, if we all got together, we could do an amazing thing in the space!"
Temkin co-founded Ronin Game Studios with Kalayjian and took the helm as CEO. The two entrepreneurs are also in charge of KnowVera, a subscriber-based educational platform for professional traders.
"A year and a half later, here we are with 'Battle for Wall Street,'" said Temkin. "We're just incredibly excited to take it to the marketplace -- not just for the fact that we wanted to build a game, like Hay Day or FarmVille, but also because of the educational component to it."
Related Link: Coin.co CEO: Bitcoin's Impact On Society Will Rival The Internet
Not Just For Traders
"Battle for Wall Street" might have been inspired by real-life investing, but that doesn't mean the game was built specifically for investors.
"I don't think we actually designed it for traders, so to speak," said Temkin. "I think traders will play the game, certainly. I like to describe it as 'Hay Day' or 'FarmVille' meets stock trading."
Temkin compared his game to "Hay Day" and "FarmVille," noting that those apps allow users to manage a farm.
"You're designing it any way you want," said Temkin. "A lot of players love that aspect of making it look really cool. But then on top of that you're growing [agriculture], raising livestock and ultimately you're selling them in an open market. You're learning about a commodity market, in a sense."
Temkin said that his game is no different "except that you're managing a trading firm [and] a trading floor."
"[You're] hiring traders, and of course there's real-time market data in the middle of that," he said. "You obviously are trading stocks to make a PnL. But at the same time there's all the fun things of, again, designing your trading floor, managing your traders."
Ages 12 To 70
Ronin Game Studios developed "Battle for Wall Street" for a very large group of consumers.
"What's the demo of this game? Apple rates it 12 and over," said Temkin. "The demographic is ultimately 12 all the way up to a 70-year-old. Google rates it E for Everyone."
Temkin also spoke about Millennials and their desire to "take financial information into their own hands."
"You see the onset of robo advisories coming on play," he said. "You see Betterment, Wealthfront, all these companies putting all of that capabilities right in the hands of a new trader. But you know what? Stock trading, for the most part, people are either afraid of it or they find it boring."
Ronin Game Studios wants to change that.
"When you combine it into a game like this, all of a sudden it makes it incredibly fun to play a game about the stock market and it makes it really easy to learn about the stock market," Temkin continued. "Along the way there's a tutorial that says, 'This is what it means to be long, this is what it means to be short.'"
Virtual Reality Or Just Reality?
Temkin envisions a world where investors will be able to actually purchase stocks within a game they are playing.
"With the onset of fractional shares, you literally can invest as little as $25 or $50," said Temkin. "As people learn how to trade and can trade small amounts of money building their portfolios, why not make that something really fun to do?"
At the moment, Ronin Game Studios' apps are purely for entertainment and educational purposes.
"What we want to do is tie it into the broker-dealer," Temkin concluded. "You [would be able to] flip the switch and it allows you to open and fund an account right from [the app]."
Disclosure: At the time of this writing, Louis Bedigian had no position in the equities mentioned in this report.
Posted-In: Battle for Wall Street Harry Temkin KnowVera Ronin Game Studios Stephen KalayjianStartups Exclusives Tech Best of Benzinga
View Comments and Join the Discussion!