6 Fintech Apps NOT Coming To Apple Watch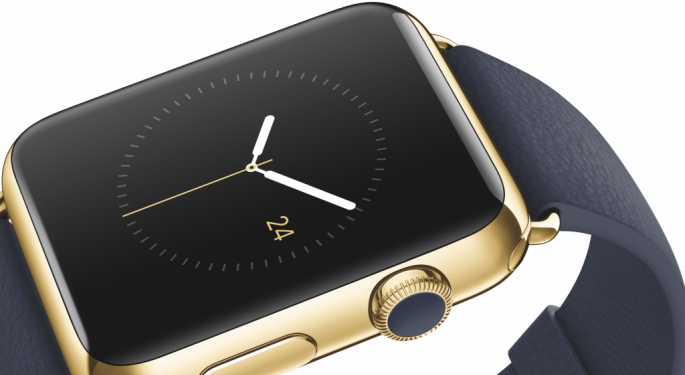 Apple Inc. (NASDAQ: AAPL) has successfully attracted a number of top-tier companies in the fintech space. Many of them were very excited about the Apple Watch, the iPhone maker's first wearable device.
Not every company is on board, however. There are a few that have not built an app for the Apple Watch -- and some of them may not build one at all:
1. Estimize
"We won't be making an Apple Watch app," Leigh Drogen, co-founder and CEO of Estimize, told Benzinga. "While I believe the Apple Watch will be revolutionary, I don't believe that it will greatly benefit 99.9% of market participants to be making decisions or executing trades based on apps built for it."
Drogen said he is "sure the brokers will love it because they will use it to get people to trade more."
"More, but probably not smarter," he added.
Related Link: 3 Reasons Apple Will Finally Ship A 12-Inch iPad In 2015
2. TipRanks
Uri Gruenbaum, co-founder and CEO of TipRanks, told Benzinga that the company does not have any plans to develop an Apple Watch app "anytime soon."
"We'd like to see if this develops into an interesting enough market before we allocate resources," he said.
3. WeSwap
Jared Jesner, founder and CEO of WeSwap, told Benzinga that the company is not making an Apple Watch app.
4. GovBrain
GovBrain is not currently working on an Apple Watch app, but founder Brent M. Eastwood, PhD, told Benzinga that it would be "cool to put our 'doomsday' financial crisis app on a wearable for market participants to get that early warning of [an] asset bubble or crisis in global finance."
5. LendVantage
Charles Benard, co-founder and managing partner of LendVantage, informed Benzinga that his company is not currently developing an Apple Watch app.
6. Vuru
When asked if Vuru is working on the Apple Watch, President Niles Lawrence replied, "Not for a little while."
Disclosure: At the time of this writing, Louis Bedigian had no position in the equities mentioned in this report.
View Comments and Join the Discussion!
Posted-In: Apple Watch Estimize GovBrain LendVantage TipRanks VuruStartups Tech Best of Benzinga