Stream TV Networks Wants to Reinvent 3D Television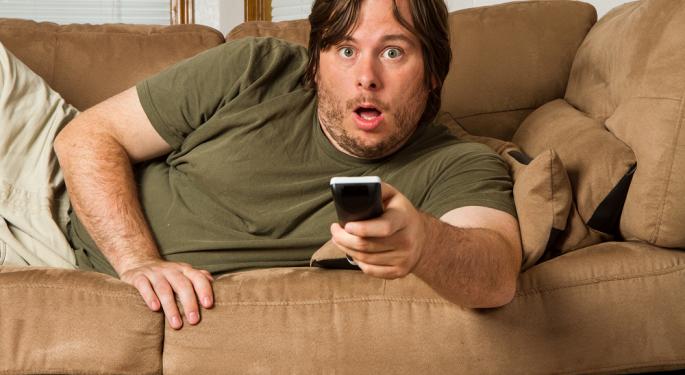 The current crop of 3D televisions may have flopped at retail, but one little-known startup hopes to reinvigorate the market with an entirely new concept: Ultra-D.
Developed by Stream TV Networks, Ultra-D is a new kind of technology, that devliers 3D visuals without the need for glasses.
"We felt that long-term, you really need to go to glasses-free 3D," Mathu Rajan, CEO of Stream TV Networks, told Benzinga. "Just putting on a pair of glasses just isn't natural for people, especially someone who wears glasses -- it's terribly inconvenient. We just didn't think that was a long-term viable prospect."
Specs-Free 3D
Back in those days (Rajan estimated that it was around four or five years ago, but he did not provide a specific date), tablets were just getting started. Smartphones had already taken off, and Rajan could not envision a way to incorporate 3D using glasses.
Related: Why Apple Won't Release a 3D TV
"We had real, real doubts about it," he said. "So we just had this crazy idea in a meeting and said, 'Is there any way to do this without glasses?' We did a worldwide search on who had the best technology, who were the best researchers."
Looking From a New Angle
Rajan spent a year and a half assembling "people and technology." He said that he put together a team and poured money into hardware, software and middleware.
"We went in a completely different direction from everybody else," he added. "Most people who do 3D do stereoscopic, which is left and right. We wanted to sort of do the early phase of the hologram, sort of front and back."
With Ultra-D, viewers will be able to look around the image from all angles. He compared the effect to AutoCAD.
Related: Panasonic Could Miss 3D TV Sales Target After Price War
"Not only have we gotten rid of the viewing angle [issues] but you can go way off to the side and still see the 3D," said Rajan. "If you close one eye, you can [still] see the 3D."
Ready for Prime-Time?
Stream TV Networks could have launched its technology a few years ago, but Rajan said that it wasn't quite ready.
In 2014, consumers will finally begin to see the company's first television sets in stores. Stream TV Networks is not manufacturing the sets in-house, but the startup has a number of partners (such as Pegatron and Hisense) that will produce TVs with Ultra-D. The TVs will be sold under several Chinese brands, among others.
"There's a really well-known Japanese brand that has agreed to carry it," said Rajan. "One of their divisions will have our TV at CES in their suite."
Sony, Sharp and Panasonic are among Japan's biggest TV manufacturers, but Rajan would not mention a specific brand.
As far as the devices are concerned, consumers should look for a phone, a tablet and multiple TVs -- including one with a 100-inch display.
While most startups are quick to brag about their source of funding, Stream TV Networks is choosing to keep that information a secret. Rajan would only say the company has a "really well-known angel and high-net worth investors, as well as funds that have put money in."
If Ultra-D is all it's cracked up to be, that investment may be about to pay off.
Disclosure: At the time of this writing, Louis Bedigian had no position in the equities mentioned in this report.
Posted-In: entertainment Mathu Rajan Stream TV Networks television Ultra-DStartups Tech Interview Best of Benzinga
View Comments and Join the Discussion!