8 Startups That Will Make (or Save) You Money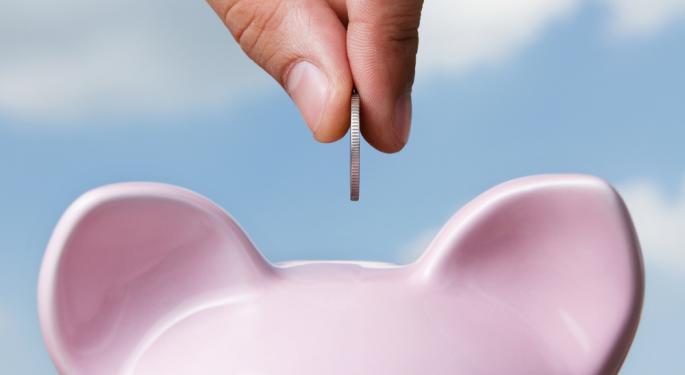 Traditionally, individuals have always turned to professionals for their financial needs.  Bankers, financial advisers, and stock brokers in off-the-rack suits meet one-on-one with clients and help them navigate the waters of financial life.
For saving money, paper had always been king.  Between store ads and newspaper coupons, thrifty consumers have smudged a lot of ink on their fingers. 
None of these practices is an artifact.  Financial professionals still enjoy lucrative careers and and print advertising is still a major (albeit declining) business.  But a new crop of technology companies is shaking up the ways that we make, save, and manage money.  And the epicenter of the revolution is not happening on Wall Street, but in innovation hubs like Silicon Valley.
Benzinga is a startup with the intention of helping our customers make money, so we know 'em when we see 'em.  The following is a list of 8 growing technology companies that will improve the bottom line:
Investing
SigFig: Managing an array of investment accounts can be vexing.  Between brokerages, 401(k)s, IRAs, 529 college savings plans, advisor accounts, and money market accounts—most people are overwhelmed.  Based in San Francisco, SigFig organizes all of a user's accounts in one user-friendly platform.  "Diagnoses" investments, and offers individualized advice, risk profiles, and offers warning alerts on predatory fees.
Lending Club: Lending Club is America's largest peer-to-peer lending platform.  On Lending Club's website, members lend money to other members.  Recent interest rates range from 7.50 percent to 22.1 percent, depending on the borrower's credit risk.  Lending Club cuts out the costs associated with big banks, and the returns are impressive.  The site claims that 93 percent of its investors earn between 6 and 18 percent returns.  The most mature company on this list, over 44,480 investors have lent more than $964 million.
CircleUp: Crowdfunding is all the rage in creative circles.  On popular sites like Kickstarter and Indiegogo, anyone can contribute to fundraising campaigns for artistic, political, charitable, and small business projects.  CircleUp brings the model to funding growing consumer product and retail companies.  If you are fortunate enough to be an accredited investor—a designation for folks who earn more than $200,000 annually or have a net worth that exceeds $1 million (excluding your residence)—then you qualify to join CircleUp.    From pet-supply stores and cupcake shops to soap-makers and craft breweries, businesses turn to CircleUp to find investors.  If you join CircleUp, you may just fund the next Monster Beverage (NASDAQ: MNST) or Lululemon (Nasdaq: LULU).
Personal Finance
Simple: Simple is an online bank founded on the principle of simplifying banking.  Beyond being able to flash a gorgeous, white debit card, Simple's account-holders enjoy sending "checks" from their iPhones to anyone in their contacts list and seeing their current "Safe-To-Spend" amount (an account's total balance minus pending charges).  Users can check data on spending behavior with map locations, tips, and spending categories. 
BillGuard: Billguard touts itself as an antivirus for people's bills.  The Tel Aviv-based company developed a technology that scans credit card bills, tests them for fraudulent or erroneous charges, and alerts people who have a similar charge to one that other users flagged.  Billguard is free for those with 3 cards or fewer.
Saving Money
Shopkick: There are plenty of startups with mobile applications that offer store discounts, but likely none are quite as effortless as Shopkick.  The Palo Alto-based company's users receive special discount offers on their phones the moment they walk into a store, without needing to check-in or scan an item.  Retail giants like Target, Best Buy, Macy's, and Toys R' Us play a noise that is inaudible to the human ear.  Android and iPhone device microphones pick up the sound, and your phone generates offer codes.
Onavo: Download Onavo to your iPhone or Android device, and your mobile data bill will shrink.  The company, headquartered in Tel Aviv, hacked up some engineering magic to develop an app that compresses data.  The company's website claims to help users get more than 500% more usage out of a data plan.  Beyond compressing data, Onavo informs users of which apps are data hogs—helping you to make better informed data decisions.  The app is free.
HotelTonight: HotelTonight provides a mobile application for last minute discounts.  Users simply enter the city in which they would like a room on a given night, and the app generates a list of deals sorted by category: hip, basic, solid, charming, and luxe. The design is seamless and the discounts are huge.  Founded less than 2 years ago, HotelTonight has already raised more than $35 million from big name venture capitalists.
Posted-In: Startups General Best of Benzinga
View Comments and Join the Discussion!