Making Biotechnology Education Affordable
If you ran a school, what would you rather pay to educate your students: $11,000+ or $600?
The answer is obvious. It's not just about cutting costs; it's about affordability. Most schools can't afford to provide their students with a proper education in biotechnology because the costs are prohibitive. That's where Genotyp comes in.
"Our little company was founded to help improve the level of student experience for biotechnology education," said James Peyer, founder and CEO of Genotyp. "When we were coming in, all of the classes that I had as a high school student in biology (at least the laboratories) were pretty lame."
Peyer, who started Genotyp in 2008, said that the core technology in modern biotech is called cloning – a process that involves taking a gene from one place and moving it somewhere else, "usually into bacteria, [where you will] start [to] make a copy of that DNA or [do] something with that DNA."
"A great example of this was at the start of the biotech revolution," Peyer explained, "where scientists took the human insulin gene and moved that gene into bacteria and started making human insulin in bacteria, which is where all the insulin that we use to treat people with diabetes comes from now."
That same process is used to study genes from mice and humans, Peyer said, and to "develop new drugs and to work with stem cells."
"What I wanted to do was come up with a program that would teach kids hands-on how this biotechnology workflow happens, letting them do every step themselves, and then teaching the theory and the applications of this biotechnology workflow right alongside, step-by-step," Peyer continued. "We send a set of consumable reagents to a school. We'll lead them through this whole biotech workflow. It's a six-day lab where they take a gene from jellyfish DNA that causes jellyfish to glow green, and clone that gene from jellyfish DNA into bacteria and get the bacteria to express that gene."
Up until Genotyp came along, high schools were faced with a $10,000 equipment bill, plus $1,100 per kit. "We wanted to lease the equipment and make the kit much cheaper," Peyer said. "So our kit is $250 and we lease the equipment for $350. So the total cost for doing biotechnology in a class is now $600 [versus] $11,000 or so."
Peyer has also written a text book to go along with his lab kit "that walks kids through this theory of what biotech is step-by-step."
"We're taking a slightly different approach to science education…where [students] learn the theory and do the lab side-by-side so they can really internalize what they're doing and think of science more as a process and less of a collection of facts," Peyer said.
Biotech in Every Classroom
"There are a number of programs (usually collaborations with universities) around the country where graduates or professors or professional scientists will…go into local high schools and spend a couple weeks or even a whole year as part of a classroom and help teach kids and walk them through laboratory experiments," Peyer said. "While that kind of experience and getting to directly ask questions of scientists is amazing, it's not very scalable. What we wanted to do was build a program that was a comprehensive introduction to biotechnology that could be taught in every classroom in the country.
"To help achieve that goal and give a little bit more support to teachers who might not have any experience with that, we actually put together a set of nine videos to teach teachers what to expect and how to set up the lab. [We] also [have] a couple [YouTube] videos….to show them how to do some of the different techniques."
The Beta Phase
Over the last couple of years, Peyer says that Genotyp has been in the beta phase of development. "Two years ago, we launched the kit in five schools," he said. "Had lots of bugs with the kit itself that needed to be worked out. Last year we did two parallel routes; one was a collaboration with the University of Notre Dame. They have a program called NDERC – the Notre Dame Extended Research Community. They already had connections with a bunch of high schools in northern Indiana. They sent their graduate students (who are part of this outreach program) with our kits and our equipment into the high schools and had the graduate students help run the program, which was a great set of feedback for us. We got into about 10 schools with them.
"The second was through Kickstarter. We were able to raise $11,000 to send our kits for free all over the country as part of a thing we were calling the Speak Science Fund."
This year, Genotyp is starting to market directly to schools. "We're talking to them by phone and e-mail."
Maker Faire Detroit
In addition to the aforementioned efforts, Genotyp has also benefited greatly from attending Maker Faire.
"Maker Faire was put on by Make Magazine," Peyer said. "We were there last year and it was really important for us, getting our name out there and helping to raise all this money with Kickstarter, [which] helped us send kits to Alaska and Florida and a bunch of states in between. We wanted to go back and update the people we met last year, meet new people, and we brought an example of our kit."
While Peyer admits that work involved in biotech can be "hard" and "tedious," Genotyp provides one final reward for students who complete each step. "They get this glowing bacteria and they make a paint out of it," Peyer said.
Take a look at the results: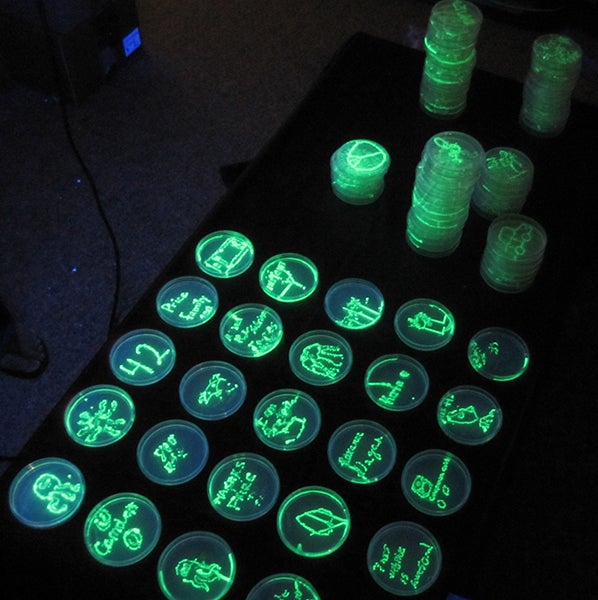 More images of the "glowing bacteria" paint can be seen at http://speakscience.org/maker-faire-detroit-2011.
Follow me @LouisBedigian
Posted-In: biotechnology Education Genotyp James Peyer Make MagazineSuccess Stories Startups Tech Best of Benzinga
View Comments and Join the Discussion!