Inside The Hidden Economy Of Pawn Shops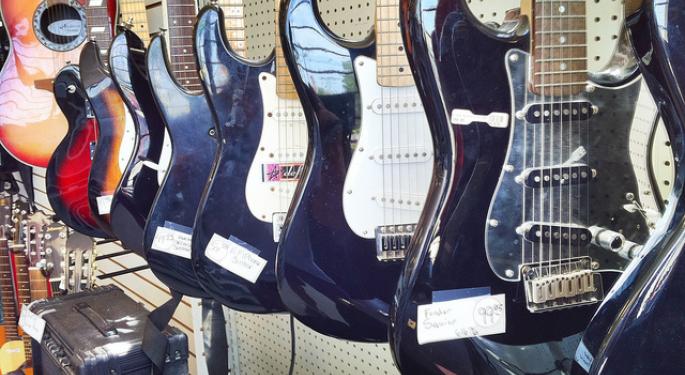 If you've seen Rick Harrison from "Pawn Stars" offer someone a few dollars for a family heirloom, only to turn it around for a few hundred bucks more than he paid for it, you've seen how the economics of resale stores can be cutthroat.
Pawn shops are the lenders of last resort for more than 30 million underbanked Americans—ten percent of the country— according to the National PawnBrokers Association. These consumers face a pervasive but little-known problem: different pawn shops offer different amounts of money for the exact same item. An item that fetches $50 at one pawn shop might be worth $200 to a shop on the other side of town. A recent survey shows that such big differences are in fact the norm, with prices varying by nearly 300%. Why do such big discrepancies exist?
According to Jordan Birnholtz, the co-founder of PawnGuru, an online marketplace that connects sellers with pawn shops looking to buy their items, it's not because pawn shop owners are trying to rip people off. The results of their survey suggest that these different valuations are the result of differences in how the pawn shops are run. Birnholtz points to three key factors that affect pawn shop pricing: access to capital, specialization, and business strategy.
What's In A Pawn Shop's Bank Account?
Like any business, pawn shops are constrained by liquidity and access to capital. If a shop is flush with cash, they can afford to make more frequent, or higher, offers. But when they're low on capital—oftentimes a shop will have spent most of their cash on hand by the end of the month—offers may decrease in size, volume, or both.
"Pawn shops have different amounts of cash on hand," Birnholtz said. "If the pawn shop you're chatting with has already made a lot of deals that month, you shouldn't expect to get the best offer from them."
How Pawn Shops Specialize
Pawn shops are likelier to pay more for items they know they can sell quickly. If a pawn shop advertises itself as specializing in electronics, they're likelier to offer more for your Apple, Inc. (NASDAQ: AAPL) iPhone or Microsoft Corporation (NASDAQ: MSFT) Xbox One. Usually, these stores have a good eBay Inc (NYSE: EBAY) storefront, where they are able to resell the items quickly, or have a good reputation that leads to lots of walk-in traffic from would-be buyers.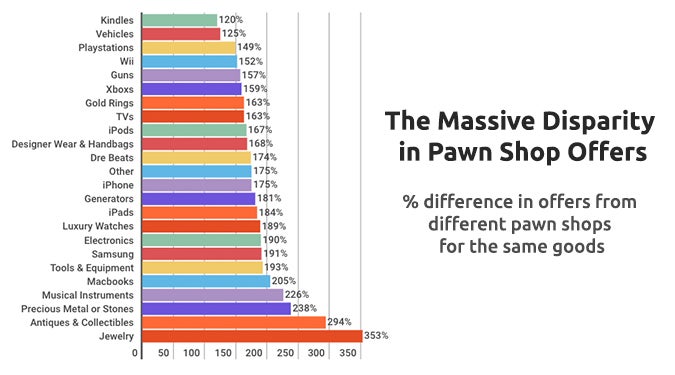 However, there's more to a store's specialization than simply how fast they can resell an item. Different items require different kinds of knowledge. Movado Group, Inc (NYSE: MOV) watches, for example, can be hard for non-experts to price accurately. A pawn shop with less knowledge of watches will be risk-averse, and may offer less because they are unsure of the retail price they'd be able to get for the item.
"Different shops specialize in different items," said Birnholtz. "For example, many cities will have a shop that specializes in TV's. And they'll pay more money for a TV because they're confident they can sell it, because they understand its true value, and because they know people will visit them when they're looking to buy one."
Different margins, Different Businesses
Pawn shops are usually small businesses, run individually or in small groups by private owners. Every shop ultimately has the same goal-- to generate profit. But, how individual shops go about achieving that varies by management style, specifically when it comes to sales margins. The most obvious manifestation of differing management styles shows in a shop's desired profit margins.
Margins are front of mind for shop operators when negotiating item prices and loans. According to PawnGuru, some shops play a high-traffic, low-margins strategy. Others balance margins with deal volume differently, and make high-margin loans on lower traffic, rejecting more customers.
Looking At The Sales Data
Birnholtz said PawnGuru sees an average price difference of about 270 percent on marketed items. According to PawnGuru data, jewelry (353 percent) and antiques (294 percent) have the largest spreads, while game consoles (about 152 percent) have the smallest.
According to Birnholtz, different kinds of items show more variation because they are harder to appraise correctly. Jewelry and antiques require more knowledge to correctly value than common consumer goods, and only some pawn shops invest in these expertises.
"The market for a Sony Corp (NYSE: SNE) PlayStation is a lot more transparent than the market for an antique because it's a more common consumer good," he explained. "You know a PlayStation will move off your shelf quickly because it has a steady market. If you move an antique, it might be worth more, but it also might sit on your shelf for a long time."
Empowering The Consumer
Many pawn shop clients have neither the means nor the time for door-to-door price comparisons. In addition, pawn shop brokers are veteran negotiators, who understand they're dealing with very pressing needs. As a result, the on-the-spot nature of pawning benefits the shop. This disparity puts consumers at a disadvantage, especially considering that many shop customers are financially insecure.
"For somebody who is unbanked and very likely low income," — the common profile of the 30 million American pawn shop regulars — "the difference between pawn shop offers is the difference between making ends meet and not," Birnholtz said.
"If somebody wanted to get an appraisal on their item at a pawn shop, they had to go to the pawn shop and actually get that number there, but that put them in a tough position to negotiate. If you have an item you want to sell, you want to get as many offers as possible like you do on eBay."
Despite positive job growth in recent years, the fact remains that many Americans aren't financially stable enough to survive a financial emergency. For many people, pawn shops are not just a novel place to unload things that didn't sell at the garage sale, they're a way to make it to the next paycheck.
Image credit: Wesley Fryer, Flickr
Posted-In: PawnGuruSmall Business Personal Finance Interview General Best of Benzinga
View Comments and Join the Discussion!